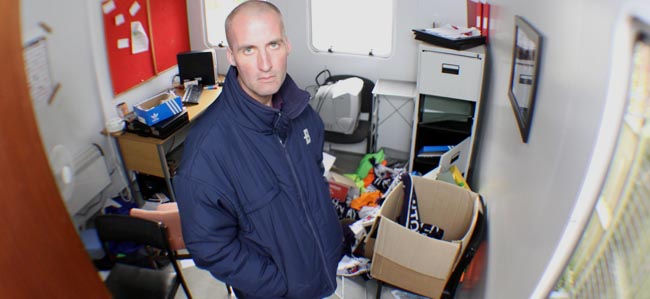 By Martin Walker
Newton Aycliffe FC have been stunned by a heartless break-in at their Moore Lane Park ground.
Burglars have forced open the doors of three cabins within their ground on Monday night, on the Aycliffe Sports Club site, and made off with a number of electrical items and some cash.
They've then ransacked the cabins – smashing open filing cabinets and drawers in the process – before leaving with a widescreen plasma TV screen, a computer, a printer and a quantity of petty cash.
The heartbreaking smash-and-grab comes just a fortnight after the Northern League club proudly revealed a new pitchside supporters facility, part-funded by a £20,000 GAMP donation.
Despite Aycliffe Sports Club spending thousands of pounds on CCTV cameras in recent years, Aycliffe Today understand there are currently no security measures in place on Moore Lane Park, which belongs to the Sports Club, even though the club has had around £400,000 spent on it since 2008.
The club's general manager Dan Lewis, pictured in one of the ransacked cabins above, told us: "It's heart-breaking. We're run entirely by volunteers who put a tremendous amount of hard work into running the club and setbacks like this really are hard to bare.
"It'll cost hundreds of pounds just to fix the doors and locks alone, at a time when fundraising is hard enough as it is.
"We'd urge anyone who knows anything about this crime to contact us or the police – damage and cost aside, this is a crime by scumbags that shouldn't be tolerated."
Police are investigating the break-in. Forensics are examining the scene and CCTV covering the nearby area is expected to be examined.
Anyone with information about the incident is asked to contact Newton Aycliffe police on 101, quoting incident number DHM1120130084, or call Crimestoppers anonymously on 0800 555 111.