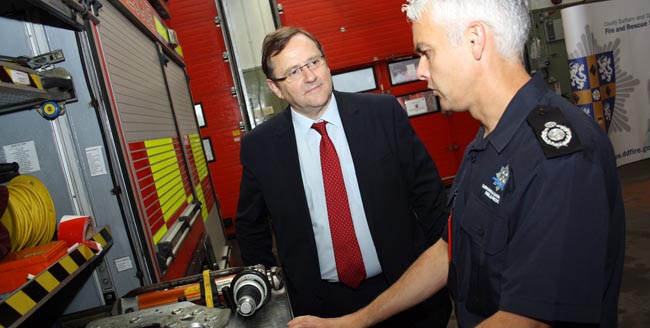 By Martin Walker
A fire chief has reassured Newton Aycliffe residents that the service offered by the town's brigade will not change – despite reducing its workforce.
The number of fire fighters at Aycliffe will be reduced from 24 to 14 as part of a new shift pattern.
But the brigade insists there'll be no redundancies – with surplus staff being redeployed to other stations.
The service's workforce nationally will gradually decrease through "natural wastage", such as retirements.
The system, known as day crewing plus (DCP), will see firemen do 12-hour shifts 'on site', followed by a 12-hour stint on call in a brand new £600,000 'home', which will be built next to the fire station on Central Avenue.
The programme, which has already been used by 10 fire crews around the country, will save £250,000 a year.
Darlington and Durham Fire and Rescue Service's (DDFRS) station at Seaham is also undertaking DCP, which is expected to come into force next summer and will save a total of £1.9m over four years between the two stations.
Stuart Errington, assistant chief fire officer for DDFRS, has told Aycliffe Today the switch will not affect service, and response times will be just the same.
Meanwhile, the town's MP, Phil Wilson, has praised DCP, calling it a "sensible" way to cut costs when he visited a drop-in open day on Monday, when members of the public were able to ask questions about the change.
Go to our Video Vault to see our interviews.
More on this to follow soon…
● Pictured above is Darlington and Durham Fire and Rescue Service assistant chief fire officer Stuart Errington, giving Sedgefield MP Phil Wilson a demonstration during a public open day at Newton Aycliffe fire station.