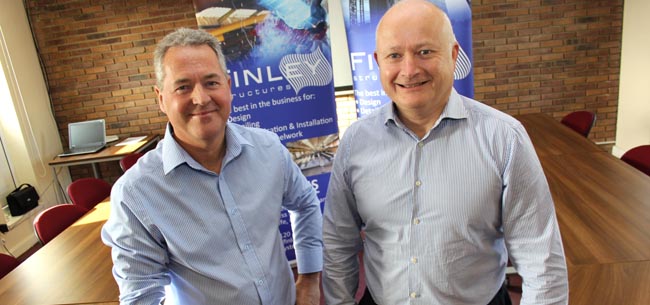 A family-run construction company has appointed a former Severfield Rowen director as its new operations manager.
Finley Structures, based on Aycliffe Business Park, has been boosted with the high-profile addition of Jim Graham in what is a major move forward for the 13-year-old firm.
Jim, originally from Newton Aycliffe, spent 22 years with leading Thirsk-based steel fabricating group Severfield, latterly as operations director.
And he admits to getting his "passion" back as Jim relishes the task of helping fast-growing Finley Structures to "the next level".
"It's a fantastic opportunity for me," said the 53-year-old, pictured above (right) with John Finley.
"Finley Structures is a vibrant, growing firm with a glowing reputation in the industry and I want to help them achieve their ambitions.
"What has always struck me about Finley's is that it's a family-run firm, which says a lot these days. There's a family atmosphere around the place and it's well run – it's a nice place to come to work.
"My ambition now is to help Finley to a level where it's fabricating between 250 and 350 tonnes of steel a week with controlled, structured expansion and establishing the firm as a major market force in the UK.
"I thoroughly enjoyed my time with Severfield Rowen, living through a number of major takeover deals and helping it through several transitional periods to establish it as a UK market-leader.
"But personally I needed a new motivation, and I've known John Finley for more than 20 years. I'm from Aycliffe and I've been hugely impressed by the strong but steady progress his company has made in recent years, particularly during difficult times.
"It's an exciting new chapter for me – it has given me my passion back – and it'll hopefully be a very exciting new chapter for Finley Structures."
Finley's managing director Julie Finley said: "This is a major coup for the firm and we're delighted to have Jim on board.
"His CV really speaks for itself. He was one of the main players at one of the country's biggest steel fabricators with more than 30 years of experience in the industry, so it represents a major acquisition for us."
Jim started his career as an Apprentice with Darlington-based Conder Structures, becoming contracts manager, then cladding manager, before joining Severfield as contracts manager in 1992.
He worked his way to contracts director at Severfield after just three years then he became deputy managing director in 2010 before he was appointed operations and contracts director in 2011 to the newly formed Severfield-Watson business.
Jim will sit directly between the Finley's board of directors – parents John and Valerie and their children Julie and Gary – and the company's management team.
Finley's has increased its workforce in the last year to cope with a strong order book, up to 60 full-time employees, while its sister company, SCH Site Services, currently employs 34 people, making a total of 94 staff combined.
The firm, based less than a mile away from Merchant Park, the venue for Hitachi Rail Europe's £82m train-building facility, reported a record annual turnover earlier this year, to £13.1m, and expects to surpass that figure at the end of the current financial year.