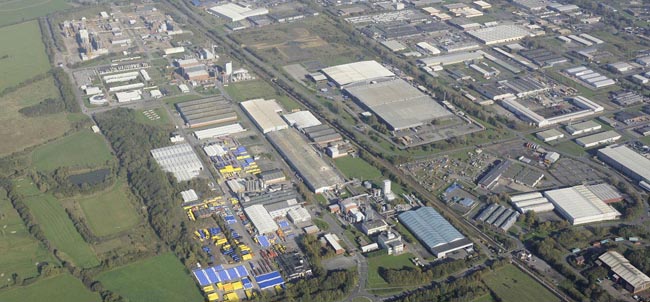 By Martin Walker
Aycliffe Business Park (ABP) is set for even greater things with a number of large empty premises set to be filled in the coming months.
Property management firm Sanderson Weatherall has revealed it is currently handling a number of high-profile deals for ABP, which is home to some 250 firms and 10,000 employees.
In recent years, Derbyshire-based Radius Systems vacated its 17-acre site which sits in between Merchant Park, which will be home to Hitachi Rail Europe's £82m train-building facility, and INEOS.
Family-run car dealership Holiways also left its state-of-the-art facility on Horndale Avenue after the group went bust with a loss of more than 80 jobs in August 2012.
But Sanderson Weatherall (SW) has revealed both premises are now under offer, with a number of offers for other smaller units also on the table.
Speaking in a column in our latest B2B magazine, Aycliffe Today Business, SW partner Jonathan Simpson said: "While businesses on the park have come and gone, I can imagine there have been few times when Aycliffe has been as popular as it is now.
"Demand is definitely outstripping supply, and this isn't just a good sign for the area, it is an indication of positive movement in the economy.
"During the last 12 months, we have done property deals to fill up to 300,000 sq ft of space on Aycliffe Business Park, including finding new homes for Meditek and Raisco.
"We have a 16,000 sq ft building at Angels Close and the 17-acre former Radius Systems site under offer, following strong interest from a number of parties.
"And we are in discussions with a number of high-profile parties about other premises, including 1 Grindon Way, while the former Holiways site is under offer.
"Even prior to all of this, the park was blessed with some great companies and a thriving business community."
Mr Simpson also admits Hitachi's arrival at Aycliffe is generating lots of added interest in the park, which is the second-largest industrial estate in the region, behind Team Valley.
"Supply chain companies are looking very closely at Aycliffe Business Park and it is fair to say that there isn't currently enough space for all of the enquiries coming in," he added.
"It's a nice problem to have, but while there is a lot of space off Long Tens Way, there is poor commercial viability of new build in the current climate, so this is the next challenge."