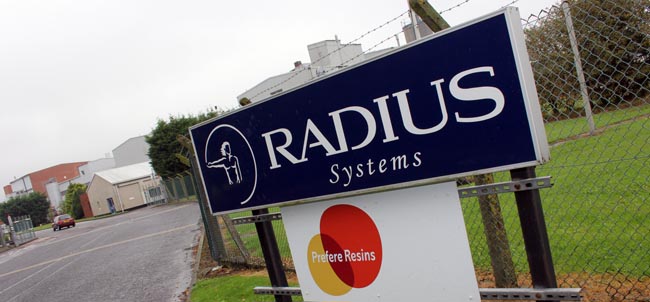 Newton Aycliffe manufacturing firm Ebac has acquired a new site to begin production of freezers within the next couple of months.
Ebac has spent more than £1m on purchasing a 60,000 square foot factory previously owned by Radius Systems on Aycliffe Business Park.
The factory, which is not far from Ebac's current 180,000 sq. ft. premises off Durham Way North, sits adjacent to Merchant Park, home to where Hitachi Rail Europe's £82m train-building facility will be built, and has been empty since Derbyshire-based Radius Systems vacated it two years ago.
In July, Ebac announced a multi-million pound acquisition and investment deal after Icetech fell victim to the collapse of Comet, with full production of the firm's Norfrost domestic chest freezer range moving 450 miles from Castletown, near John O'Groats in the Highland, to Aycliffe.
The Norfrost name and the company's equipment, designs and copyright agreements were secured in the deal and Ebac is now priming the new factory with a view to beginning production in the next two months.
Up to 30 new full-time jobs will be created initially, but Ebac hopes to create up to 100 positions eventually.
In a Video Interview, the group's managing director Pamela Petty said: "It's a significant investment for us, but if it grows the way we expect it to there'll be more investment and more jobs.
"It could create up to 100 jobs in total, although it may take a couple of years to get there, but it's exciting times for us.
"Norfrost is a really good brand, it's well known – if you've got a chest freezer, you've probably heard of it – and it's a fantastic, reliable product."
Ebac, famous for producing dehumidifiers, is planning to bring washing machine manufacturing back to the UK next year, with plans to double its current workforce of 200.
Petty added: "There's a definite positive turn, and I think the big difference is we're actually starting to believe in ourselves, that we can manufacture, we can compete and we can make a difference.
"There's a real acceptance now that manufacturing is the cornerstone of the economy and that we need it.
"We can't just survive from services in our economy, and it's great to be in the middle of Aycliffe Business Park, it's a fantastic example of that and there are some great manufacturing companies here."