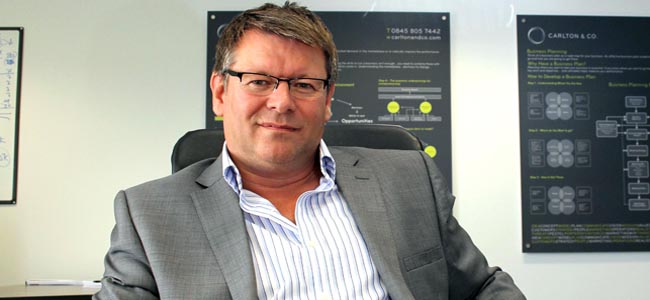 By Martin Walker
One of the organisers behind a Dragons Den-style competition says he wants to help an entrepreneur turn a great idea into something "spectacular".
One lucky North East business will bag over £100,000 of services by winning 'Achieve Your Dream in 2014', a competition organised by The HUB Partnership on Aycliffe Business Park in Newton Aycliffe.
Open to any company of any kind – existing or start-up – the winning firm will net a dream package of services including office space, marketing strategies, PR and mentoring support to develop a strategic growth plan.
To begin with, companies or individuals must make applications in a 500-word executive summary and a 10-slide Powerpoint Presentation in the first round of the competition.
Then, similar to the hit TV show, shortlisted candidates will 'pitch' their idea to a panel of judges.
Craig Peterson, director of the Carlton and Co Group, and Rachel Townsend Green of Au Fait Marketing, have pulled together support from other HUB residents to offer a package that will nurture the winning "idea", with firms including design and brand specialists Echo Graphics, Harlands Accountants, Watercooler World, Growth Funders and Aycliffe's only provider of PR, Mantis Media, all chipping in.
Craig says: "We want to help talented entrepreneurs realise their full potential.
Click here to see our feature with Craig in our November-December issue of Aycliffe Today Business
"We created The HUB to provide a base for great businesses to grow and thrive. We are delighted that many of the companies based at The HUB have grown, increased turnover and created much needed jobs including apprenticeships for some very talented young people.
"We now want to roll out additional support to a business that can demonstrate ambition to grow.
"It could be a start up company or a more established business. The common theme is that the business is led by an entrepreneurial team and has high growth potential.
"All of the businesses involved in the project want to give something back and help an aspiring entrepreneur on the road to achieving something spectacular."
Craig says the competition has been a real joint effort, but one which he's confident will prove hugely popular.
"It's been a combination of people from different companies getting their heads together, to come up with a support package that can help a great, ambitious local business to achieve a dream," he says.
"One of the key things we talked about was that for businesses to grow and thrive, they often need early stage support, to crystallise an idea that is absolutely going to take off, and that support, from a number of experienced people, across a number of disciplines, can be a massive help."
As part of the package, the winning firm will receive expert service in all areas of the business to ensure every element is developed appropriately.
This will include mentoring, office space, a marketing strategy, social media strategy, training and support, a refreshment station, corporate branding and identity, a suite of promotional material including design and printing, a website with hosting, PR and accountancy services.
More information about Achieve Your Dream in 2014, and how to enter, is at www.achieveyourdream2014.co.uk