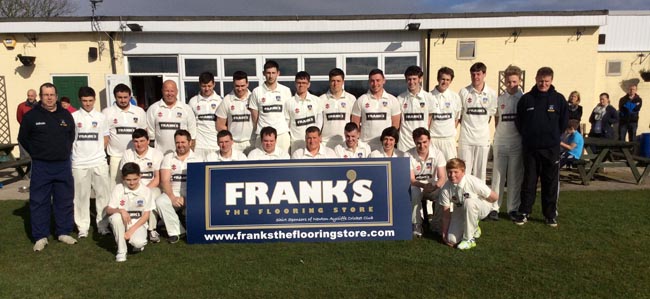 By Martin Walker
Newton Aycliffe have been further boosted by a double sponsorship whammy this week.
Just a couple of days after announcing they'd been named the NYSD League's Gold Club of the Year for a second successive year, Aycliffe have revealed details of two sponsorship deals.
The club have again won the support of shirt sponsors Frank's the Flooring and local fundraiser Honest John.
John has again shown his generosity by raising money to buy coaching equipment.
He has handed over £550 which has enabled the club to purchase a complete coaching pack which will benefit all of the club's players.
Frank's the Flooring have not only renewed their deal for 2015 but have also extended it to sponsor the club's six other teams as well.
The club's chairman Ian Palmer said: "Franks have been very supportive during our discussions and were keen to continue their support of Newton Aycliffe Cricket Club.
"Their Managing Director was guest of honour at our presentation evening and was impressed with where we have come in a short time and our plans for the future of the club.
"We at NACC are very pleased to be associated with a progressive company like Franks who are providing employment and support for the local community and hope that the partnership between Newton Aycliffe Cricket Club and Franks continues to flourish for many years to come.
"It is also the second successive year that Honest John has raised money to improve the coaching facilities at Newton Aycliffe CC and everybody at the club are extremely grateful for his continuing support."
AYCLIFFE NAMED CRICKET CLUB OF THE YEAR… AGAIN!