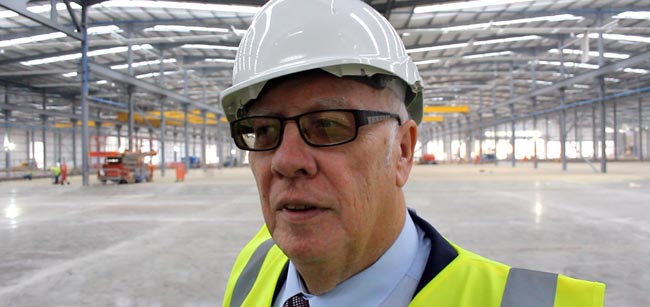 By Martin Walker
The developers who brought Hitachi Rail Europe to Newton Aycliffe have told Aycliffe Today that retail provision and 4,500 new jobs are part of ambitious future plans for the town.
Geoff Hunton, director of Merchant Park Developments, says the arrival of Hitachi in Aycliffe is just the beginning for Aycliffe Business Park.
He says he wants to bring 4,500 new jobs to the area as part of the Merchant 2 development, which has already been backed by Government cash, followed by a third development.
And he wants to achieve it all within the next five years.
Mr Hunton was speaking at Hitachi's topping out ceremony on the site of the firm's impressive £82m train-building factory – which is now just months from being ready.
In a Video Interview, he said: "This is the catalyst for growth in the future. This isn't about jobs disappearing, it's about creating jobs.
"Merchant are looking to create another 4,500 jobs over the next five years. I've made statements before and we've delivered, in relation to this site."
Durham County Council's County Plan, revealed earlier this year and awaiting sign-off by the Government, includes 123 hectares of potential employment land on Aycliffe Business Park that could be developed for industrial and retail space.
And in July, the local authority secured £10m-worth of funding to start developing the second phase of Merchant Park, adjacent to the Hitachi site – a potential 48-hectare manufacturing hub which could create 3,400 jobs.
That leaves Merchant 3, and Mr Hunton added: "It could include retail provision but we've got to respect planning permission and what the site was set up for.
"Yes we'll be looking at some retail, but more in the 'fast food sector', rather than Next or something like that."
Go to our Video Vault to see our interview with Geoff.