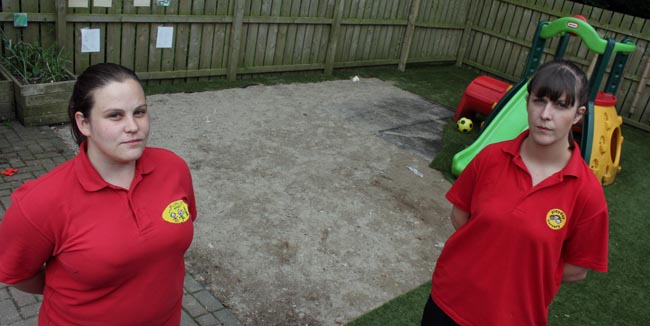 By Martin Walker
Cruel thieves have wrecked an Aycliffe nursery's playing area after ripping up and stealing some state-of-the-art astro turf.
The Play Days Nursery, on Simpasture Gate, spent £5,000 on specialist artificial grass to improve its outdoor playing area – part-funded by parents who helped to raise the cash.
But less than three weeks after the new grass was laid, a large section – measuring about 16 square metres – has been ruined after heartless thieves struck on Wednesday night.
The nursery's manager Linda Watts discovered the damage on Thursday morning.
She told Aycliffe Today: "Words can't describe how we feel about this, it's just heart-breaking.
"It had only been put down about two or three weeks ago and the youngsters have absolutely loved the playing area since."
The thieves also caused some damage as they tried to cut away some of the turf from around one of the climbing frames.
Anyone with information is asked to contact the Aycliffe Neighbourhood Police Team on 101 or Crimestoppers anonymously on 0800 555111.
• Pictured (above) is Play Days Nursery staff Laura Eason (left) and Helen Barber (right) in front of the playing area.