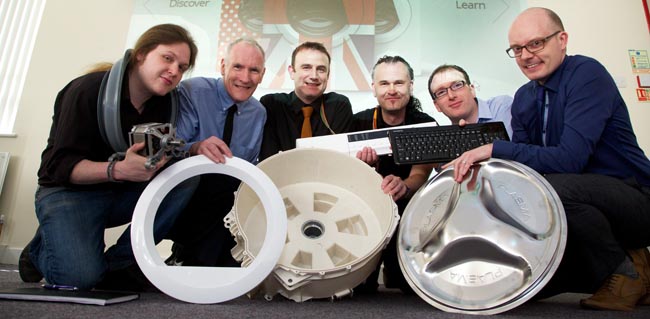 By Martin Walker
Newton Aycliffe manufacturer Ebac has launched an innovative website which will enable consumers to design their "dream" washing machines.
Ebac, already producers of water coolers, dehumidifiers and fridge-freezers, is now the only UK-based manufacturer of washing machines.
And the firm has launched a groundbreaking website to ask real experts, the consumers, what they really want from a washing machine.
The UK washing machine market currently consists of hundreds of machines, all similar in design and functionality with confusing terminology, technology and features that are rarely used.
Ebac's team is convinced that the key to giving customers the product they want is to give them a platform to tell its designers what they would like from the next generation washing machine that really will be designed by consumers, for consumers.
This first of its kind 'build your own washer' website has been developed by Ebac to enable consumers to choose the features and specification that are important to them.
They can select from a range of wash programmes, functions, user interfaces and even colour.
Visitors to the site will also pick up some great washing tips for an easier life and discover Ebac's journey to becoming a leading household appliance brand.
Understanding the everyday user and the things they value are key elements to the Ebac brand and its success.
Consumers can contribute to the development of a British made washing machine at www.ebacwashingmachines.com
Ebac are encouraging interaction through the website with the addition of social media functionality so visitors can share their custom designs with friends and family.
Everyone who designs their own washing machine on the website and therefore contributes to Ebac's research will be entered into a free prize draw to win an Apple iPad Mini.
Ebac has invested £7m in the development of washing machines, and has built collaborations with leading appliance experts, with over 30,000 man hours provided in research and development.
This has given Ebac a world-class understanding of washing machine technology and manufacture.
Already to date the company has had over 3,500 consumers' input and feedback from research to truly understand their needs.
Managing director Pamela Petty said: "This is a great chance for a wide range of people to get involved in informing the new generation of British-made washing machines – and to tell us what their perfect product would be.
"These machines are being developed for use by people in this country, so now they can come online and tell us exactly what they want from an appliance.
"While we have done a wide range of research in the past, none is as important as the information we receive from people who actually use washing machines; these are the real experts."
Ebac Washing machines will be launching later this year.