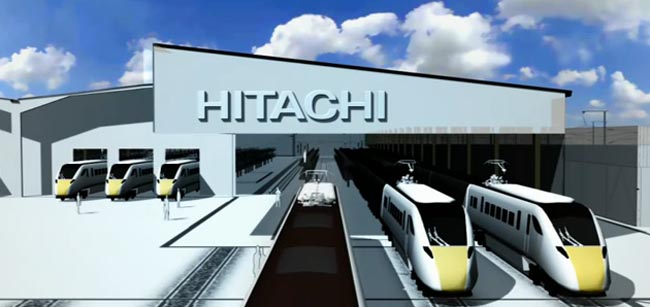 The construction of an £82m train-building factory in Newton Aycliffe is due to start with a high-profile ceremony this week.
Business Secretary Vince Cable and Patrick McLoughlin, the Secretary of State for Transport, will visit Hitachi Rail Europe's site on Aycliffe Business Park on Friday (November 1).
Hitachi's executive chairman and chief executive, Alistair Dormer, will also be in attendance when the "first cut" is due to be made.
The factory, which will include a research and development centre, is expected to take two years to complete and will employ more than 200 people in its construction.
It will then employ 730 people once open, and it's estimated thousands more in the supply chain.
The Labour MP for Sedgefield, Phil Wilson, played a big part in paving the way for Hitachi's successful bid for the £5.8 billion Intercity Express Programme (IEP).
Mr Wilson campaigned for Hitachi and took a petition of signatures to Number 10 to strengthen their case.
"It will be a truly historic occasion to see work start on a site which is the cradle of the railways," said Mr Wilson.
"A lot of work has already gone on at the site, which already unrecognisable from the field we stood in almost 18 months ago when the IEP was officially confirmed.
"The site will bring more than 200 jobs in its construction, more than 700 permanent posts once open for business and thousands more in the supply chain, so Friday will mark another major milestone for manufacturing and jobs in the North East."
In July, Patrick McLoughlin confirmed another huge order for more state-of-the-art trains to be built by Hitachi Rail Europe.
Hitachi announced a new £1.2bn deal to build 270 carriages as the second phase of the IEP, topping up the original £4.5bn contract to make 596 vehicles, which will take manufacturing at its factory up to 2020.
It means the factory's capacity is already half full for when it's due to start production towards the end of 2015.
At the time, Mr McLoughlin said: "We have provided further proof of our determination to transform Britain's railways into a world-class operation through continued investment and state-of-the-art technology.
"This new order for class 800 series trains is part of the government's commitment to invest in our nation's infrastructure."