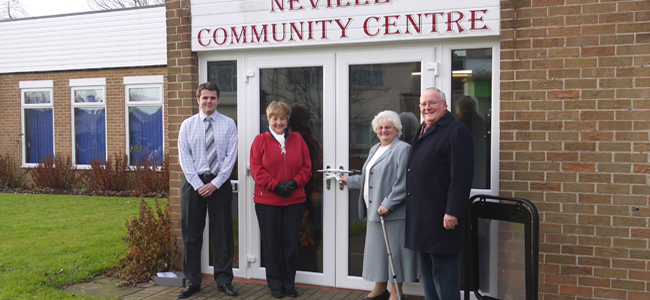 A community is celebrating work which has made their local hub a safer, more attractive place to be.
GAMP has funded renovations to the Neville Community Centre on Neville Parade in Newton Aycliffe.
Funding has helped to pay for new front double doors, side panels, railings and toughened glass.
The new doors were moved forward, flush with the front of the building. It's hoped this work will deter people hanging around the entrance and subsequently help to reduce litter and anti-social behaviour.
Funding was also used towards the cost of renovating the gents toilets as the previous ones were over 40 years old and in need of extensive modernisation.
The partnership, one of 14 set up by Durham County Council in 2009, has supported the initiative via councillors John Moran and Sarah Iveson's Neighbourhood Budget, totalling £7,875.
Brian Riley, GAMP coordinator, said: "Supporting the town's voluntary organisations is a priority for GAMP and assisting the Neville Community Centre with funding has allowed the team there to progress their plans and create a safe and welcoming environment for local residents."
Peter Beaty, president of Neville Community Centre, said: "The trustees of the centre appreciate the support that we have received from the GAMP team and would also like to thank councillors Iveson and Moran for supporting the project."
Pictured are: Adam White, GAMP project officer, Anne Hardy, Neville Community Centre Secretary, Cllr Sarah Iveson and Peter Beaty, president of Neville Community Centre.