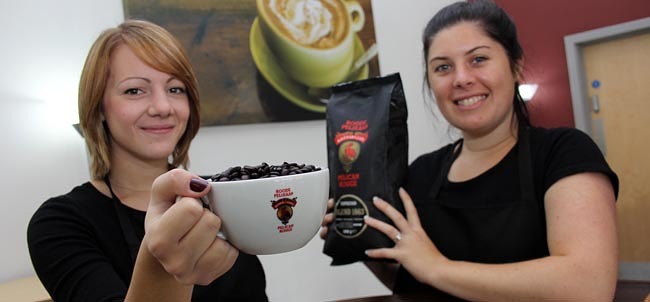 There's a new scent of coffee in the air at Aycliffe Business Park's only boutique coffee shop.
As revealed in our latest Aycliffe Today Business, Jackson's, situated within the Xcel Centre, has made the bold move to switch its providers of coffee from Starbucks to exciting Dutch brand Pelican Rouge.
For those not in the know, Pelican Rouge is a fast-growing Dutch brand seen more in city centre coffee shops, including Newcastle.
Xcel Centre manager Kerina Clark says their decision to move brand was taken after much deliberation. Coffee-tasting can take hours if done properly.
"When we set out four years ago, places like Starbucks and Costa Coffee were few and far between, so it was an attraction to come to the Xcel Centre," says Kerina.
"But now you can get a Costa coffee just about anywhere, and we want to maintain the unique edge we've always had by offering something different, almost exclusive.
"Culture has also changed over the years. People's tastes have changed and it isn't just a straight-forward tea or coffee. The choices are endless.
"But at the end of the day, the feedback we get from customers is that they care about the quality of the coffee more than they do the brand.
"We want to maintain a superior quality while still offering a wide range of coffees."
Kerina says they considered many different brands before eventually plumping for Pelican Rouge.
She added: "For people who don't care so much about the brand of coffee, you might not notice a huge difference, but for the coffee connoisseurs out there, this is a real treat.
"We're coming up to our fourth birthday and we want to maintain our reputation for being different, and offering top quality coffee.
"We average about 1,000 people walk through the doors every week at Jackson's, and we also have loyal clientele – we're very confident that they will love the new coffee."
● Pictured above: Reilly and Holly, baristas at Jackson's coffee shop in the Xcel Centre