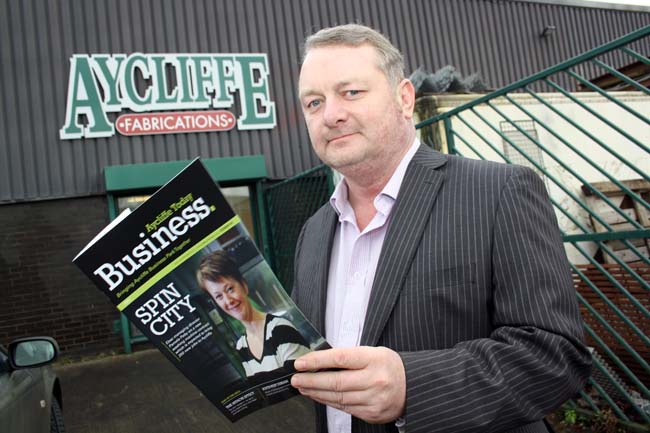 By Martin Walker
A wave of excitement is sweeping across Aycliffe Business Park with the launch of our eagerly-awaited new magazine.
Some business leaders have already got their hands on the first edition of Aycliffe Today Business – a free B2B publication for the North-East's second-largest industrial estate.
With 3,000 copies being distributed across Aycliffe, the 16-page A4 magazine – the first of its kind for Aycliffe – is being met with enthusiasm.
Dave Spensley, managing director of Aycliffe Fabrications, the firm which produced 'the Aycliffe Head', was one of the lucky ones to get an early copy.
"I think it's absolutely fantastic," said Mr Spensley (pictured above with the debut edition).
"The Business Park has been crying out for something like this for a long, long time.
"It gives all firms on the park a brand new platform to communicate directly to all other firms around them in a high-quality business magazine never seen before on the town."
One copy will be mailed direct to 300 companies residing on Aycliffe Business Park from Friday.
The owner of one of the town's oldest firms – Gregg Little MOT Testing Centre – is just as impressed with the new mag.
"I'm excited by it, that's for sure," Gregg (pictured below reading the mag) told Aycliffe Today.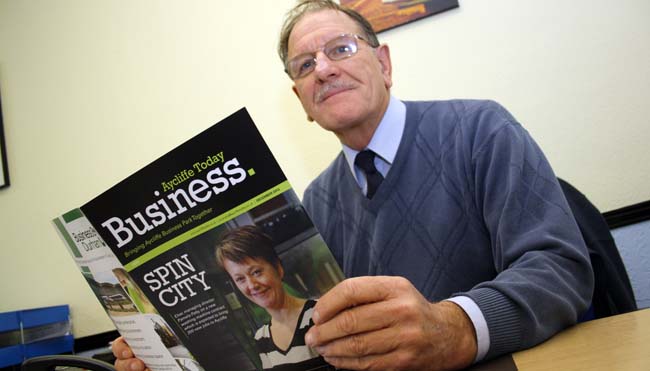 "I was actually pleasantly surprised by the quality of the content and the feel of the magazine – it has a real business-class feel to it.
"It's a very welcome addition to the park and something which I'm sure will be well received by all firms on the park."
AToday Business is a specific B2B publication produced by Mantis Media in association with Splash Print Management.
● To advertise in the January issue of Aycliffe Today Business, due out before Christmas, call Martin Walker on 07826 525907, or email [email protected]