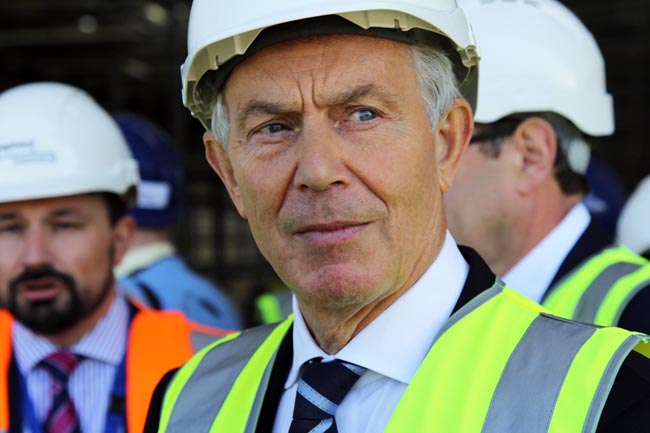 By Martin Walker
Tony Blair says the "high quality" companies which are coming to Newton Aycliffe want the security of knowing they can trade in Europe without tariffs.
The former Prime Minister and ex-Sedgefield MP was back in the area on Tuesday to promote the Labour Party's General Election campaign.
He used the Xcel Centre on Aycliffe Business Park to launch a rallying cry for Ed Miliband's party, and focused on the issue of Europe during a 30-minute speech.
After his address, Mr Blair visited Hitachi Rail Europe's nearby factory, which is on course to be ready later this year and will start producing high-speed trains next year.
In a Video Interview with Aycliffe Today, he said: "We're managing to attract really high quality businesses here.
"I think the fact you're going to have a training college near here, giving young people the skills they need for the future, is great.
"We've got to keep this going and moving forward, so the disruption of a potential exit from Europe is not really helpful.
"When people come here they want certainty, they want predictability and they want to know they can sell into the European market without paying tariffs."
Mr Blair added: "This (Hitachi) is one of the premier companies in the world.
"They chose to come to Newton Aycliffe, they could have gone to over 40 different locations.
"They came here in part because of the local council, because of the local MP Phil Wilson, and because they could feel the enthusiasm for having it here.
"My message today is, since this is called Hitachi Rail Europe, is that we should stay in the European Union and we shouldn't withdraw."
Mr Blair also said he enjoyed returning to the area where he was Member of Parliament from 1983 until he stood down in 2007.
"I always love coming back here," he said.
"I always get a really warm welcome and it's great to see what a fabulous job Phil Wilson is doing as my successor as MP."
Go to our Video Vault to see our short interview with Mr Blair.
Click here to see our picture gallery.