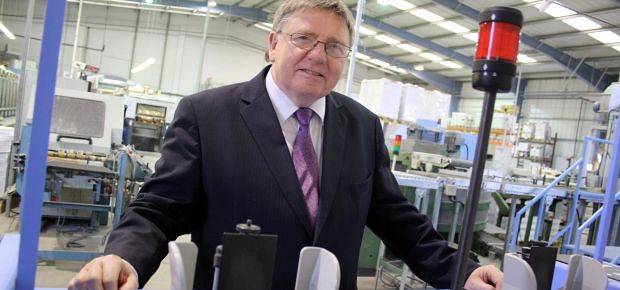 By Martin Walker
One of the key players in bringing Hitachi to Newton Aycliffe retired this week.
Business Durham managing director Stewart Watkins called an end to his time with the organisation after more than 35 years.
Click here to read a special feature on Mr Watkins in our latest business i-mag
The proud Welshman – and adopted North Easterner – first joined Durham County Council (DCC) as assistant industrial development officer in 1978.
Watkins worked his way up the ranks over the years to eventually head up Business Durham, the business arm of DCC.
And despite originating from Ebbw Vale in the heart of industrial Wales more than 300 miles away, he plans to spend his retirement in this neck of the woods.
The 65-year-old says he fell in love with County Durham as soon as he arrived.
"From day one I just loved every minute of it," he says. "It's a great part of the world."
He has since witnessed an ever-changing business landscape during more than three decades in the region.
"The County has been transforming for the last 30 years that I've been here, from the closure of the mines and the closure of the wagon works at Shildon and Consett Steelworks," he says.
"To compensate we brought in many inward investment companies, with a lot of foreign companies coming into the area to create jobs, and Aycliffe benefited immensely from that early drive, with a lot of credit going to the old Aycliffe Development Corporation.
"As the economy changed again in the 1990s, we were opened up to the global market, and because of that low-cost countries in Eastern Europe and China either brought cheaper products to market, or companies here decided they could make their products cheaper elsewhere, and many companies suffered from that.
"We've managed to change the economy from primary, extractive, heavy engineering end of the spectrum through to the manufacturing and light engineering markets."
Watkins says the changing face of local authorities and the current economic climate has significantly changed the way Business Durham has been able to assist local companies.
He added: "The Regional Development Agencies were abolished by the Coalition three years ago and that completely transformed the level of business support.
"It has changed the landscape and nowadays business is a completely different ball game, but I strongly feel that as a region we're tackling our issues head-on and we'll come out stronger for it in the end."