The 15-year-old boy at the centre of a bully storm was previously honoured for his bravery after suffering from a rare condition, Aycliffe Today can reveal.
A video of Conor Radford being bullied at Aycliffe's Greenfield Community College was posted on social media and even made national newspaper headlines after the disgusting film went viral.
The school has told Aycliffe Today the matter is being dealt with.
We can reveal how back in November 2012 Conor, who was 11 at the time (above), picked up an ITV Brave Heart Award at a prestigious ceremony at Newcastle United's St James' Park.
Conor suffers from Aplastic Anaemia and Arthrogryposis and had to undergo chemotherapy and radiotherapy as part of a gruelling six-year treatment programme.
His life was saved after a bone marrow match was found in a 23-year-old man from the US.
Meet the Bone Marrow Braveheart
Despite his ordeal, the youngster remained upbeat and cheerful throughout, and was nominated for the Brave Heart award by one of the Clic Sargent carers at the Newcastle RVI.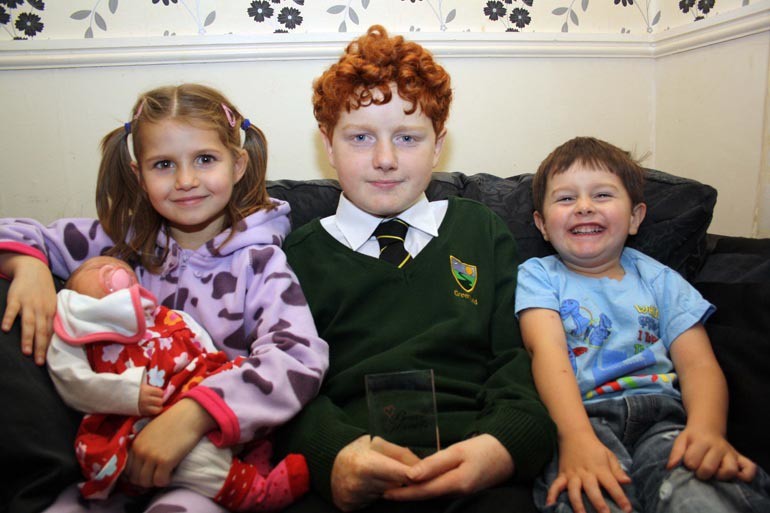 Conor Radford with his siblings back in November 2012.
This week, a minute-long clip emerged of Conor being taunted and punched by another pupil as others looked on.
It was only when Conor's brave pal Adam Scott intervened that the ordeal ended.
But the video has caused outrage, with people – including Conor's Mum – turning to social media to vent their anger and concern.
Sarah Radford said on Facebook: "The lad with the ginger hair is my son. Who is also disabled. This fat kid also has tendencies to hit other lads.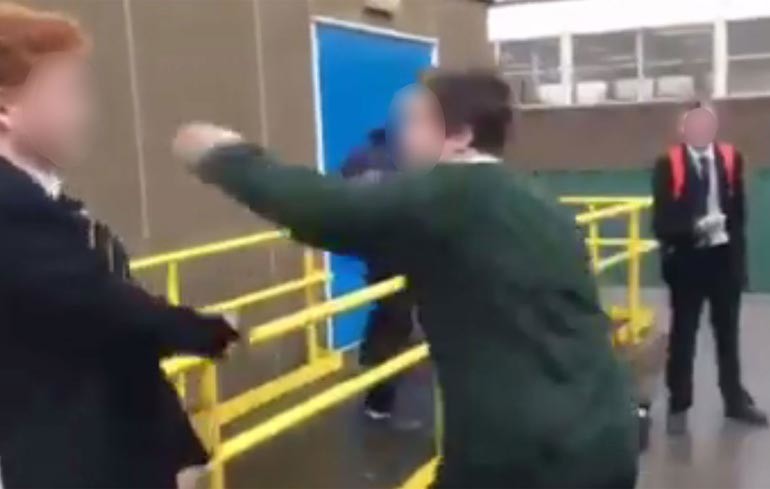 "He is 15-years-old and been to hell and back with his health since he was born. He also needed a bone marrow transplant in 2011, If he didn't have that he'd be dead.
"My son took a few punches but didn't retaliate he's the bigger person in all this as well as Adam Scott who shows he is such a great mate and take him away from this.
"I've spoken to the other boy's Mam and dad who are absolutely appalled at their son's behaviour and are dealing with him.
"Thanks to all this commenting on how I should be proud of him. I am 100% proud of him. Thanks for the support."
Conor's big friend Adam added: "Conor is safe round school with me and the other great mates he has", while Adam's proud father Mark Scott wrote "Very proud of his courage and loyalty to his mate in the face of a bully."
Stef Hobson also praised Adam on Facebook, saying: "The child who stepped up and took the boy away from this awful situation should be very proud of themselves.
"Bullying is always wrong it stays with people through their adult lives. The more we can work together to combat these awful people the better."
Local councillor John Clare – a former deputy head and history teacher at Greenfield – added: "Bullying is never acceptable.
"It is five years since I left Greenfield, but – as the local councillor – I can say that it is a very good school, and I am sure it will be well onto this issue."
Greenfield College told Aycliffe Today the matter was being dealt with and the police were involved.
Head David Priestley said: "We are taking this incident very seriously. We have carried out a thorough investigation and have spoken to the students involved and their parents.
"We are taking action in line with our policies against those who played a key part in this incident and we have also been in contact with the police.
"I would like to thank those who have contacted the school about this and wish to reassure parents and the wider community that we do not condone bullying or fighting at Greenfield Community College."