A growing family-run business which services the construction industry aims to almost double turnover after investing more than £1m in new facilities.
BTS Fabrications has rebranded as BTS Facades and Fabrications, after spending heavily on a new head office and equipment at its Newton Aycliffe premises.
More than 100 guests gathered for an open day at BTS's impressive new premises, along Woodham Way at the heart of Aycliffe Business Park, as company directors outlined the firm's ambitious plans.
BTS Fabrications is a well-established premier supplier of metal CWCT tested rainscreen systems and fabricated metal construction products.
After growing from six staff and a turnover of £375,000 in 2009, BTS now employs 48 full-time staff with an annual turnover of £5.1m.
But sales in the firm's current financial year, ending in March 2019, expect to top £6.5m – and the aim is to achieve sales of more than £9m within three years.
Managing director Phil Atkinson – pictured above (second left) with his brother and fellow director David Atkinson, company secretary Marcia Atkinson and drawing office director David Precious (right) – said: "Seeing the number of people who turned up for our open day makes us immensely proud.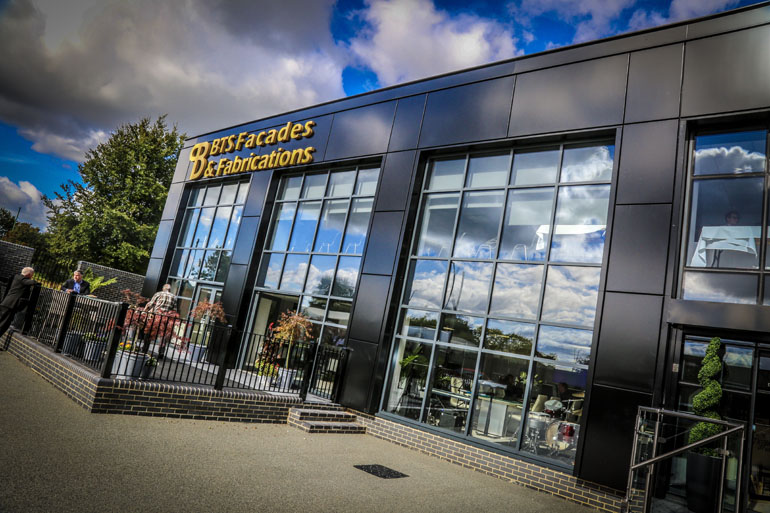 "My wife and company secretary, Marcia, has been the architect of this project, we've all worked very hard on it and to see it all come together is wonderful. It's been a fantastic journey and I'm tingling with pride."
BTS' latest investment was part-funded with the help of Barclays and a £177,000 grant from the European Development Fund.
Atkinson added: "This is the biggest investment in the company's history, but it doesn't end there.
"We've just placed an order for a new £700,000 machine. It will keep going until we reach 'Eutopia' and have a fully-automated workflow.
"So we don't see our growth stopping. As long as it's sustainable, and we can justify the spend and recruitment, we'll get more people.
"We've got the fundamentals of the business right. We all work very hard. I'm very hands-on, I still do all our buying and invoicing. Our production director is hands-on. We all work very hard and we're all pulling in the same direction."
Entrepreneur and portfolio non-executive director Gary Lumby was a guest speaker during BTS' open day and is impressed by the company's growth.
He added: "This is a great example of a business which is flying the flag for the North-East, in terms of growth, revenue and employability, and you can see their investment in facilities and people is really paying off.
"You could see from their presentation that they're not only good communicators, but they're also technically very good at what they do and highly-skilled in their sector."
To find out more about BTS go to btsfabrications.co.uk, give the team a call on 01388 816883 or email [email protected]