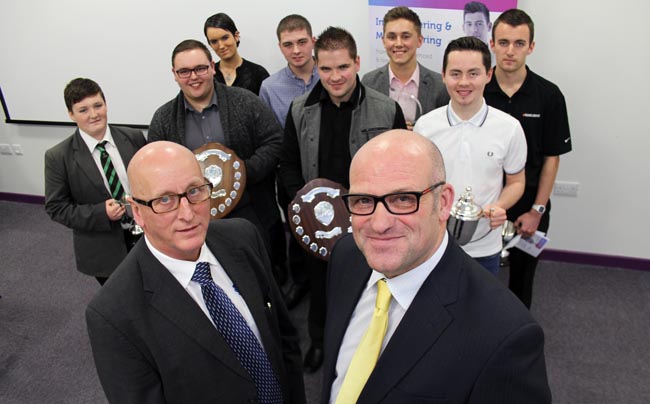 By Martin Walker
An award-winning Teesside businessman returned to his roots to congratulate the next generation of engineering Apprentices.
Nifco boss Mike Matthews, who was named North East Business Executive of the Year last month, was the star guest at an annual awards event by Newton Aycliffe-based SW Durham Training (SWDT).
Matthews, originally from Darlington, learned his trade with SWDT, leaving the training-provider as a time-served tool maker in 1981.
He returned to his roots to applaud a group of young Apprentices who've been singled out for their achievements this year.
"Apprenticeships are close to my heart and it's great to see lots of former colleagues and trainers," said Matthews, Nifco's European operations officer and managing director who worked his way up from the shopfloor.
"A lot of things I learned at SW Durham Training have stuck with me throughout my career.
"The majority of people from the class of '81 went on to achieve fantastic things, and there are SWDT-trained Apprentices all over the world with top, top jobs.
"SWDT gave me a great start in life. I met some great friends who I'm still friends with today."
Matthews, pictured above with SW Durham Training (SWDT) interim chief executive Trevor Alley and a group of Apprentices at SWDT's annual awards evening, says Apprenticeships remain an integral part of Nifco's plans.
The firm, which spent £8.5m relocating to its current Eaglescliffe site and makes plastic components from door handles to bumper brackets for customers including Nissan, Ford and Honda, currently employs 350 staff.
Matthews added: "At Nifco, we're taking on Apprentices in all areas of the business.
"We work with and supply to world class companies, with a top reputation in the industry, and we do that with a bunch of ex-Apprentices.
"I came from an era when families used to work in factories, with different generations of a family all under the same roof, and we try to encourage that ethos at Nifco."
The full list of SWDT winners included Nathan Bain, Woodham Academy (best year 10 school pupil, sponsored by South Durham Engineering and Manufacturing Forum, SDEM); Cailin Smith, Ferryhill School (best year 11, sponsored by SDEM); Liam McAreavey, Springfield NE Ltd (Engineering Machining Award, sponsored by SWDT); Anja Gardelin, Sone Products (Electrical Engineering Award, sponsored by Lorimer Electrical); Dean Moore, William Cook (Mechanical Engineering Award, sponsored by SWDT); Thomas Wise, D&S Service (Fabrication Award, sponsored by Mechtool Engineering); Radoslav Baniak, Ebac (Award for Effort, sponsored by Stanley Black & Decker); Daniel Christie, Tacle Seating UK (Health & Safety Cup, sponsored by Durham & North Yorkshire Health & Safety Group); Jamie Taylor, Nifco (European Exchange Programme, sponsored by PTSM); Alex Hird (Overall Apprentice of the Year, sponsored by Cummins).