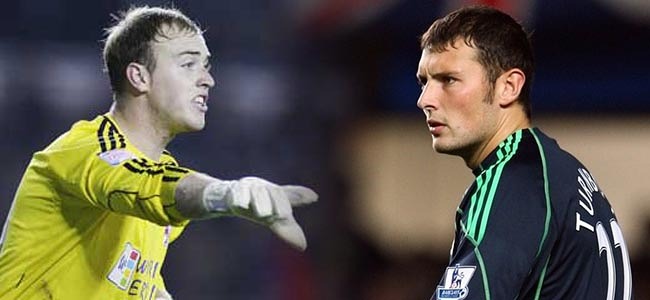 By Martin Walker
Fellow Newtonians and regular Aycliffe Today bloggers Jason Steele and Ross Turnbull go head-to-head in a special feature.
Steele's Middlesbrough side take on Turnbull's Chelsea at the Riverside Stadium this evening, in the fifth round of the FA Cup with Budweiser.
Turnbull, 28, and 22-year-old Steele are both ex-Woodham Academy students and are both now sporting ambassadors for their former school.
As their sides prepare to do battle tonight, with an FA Cup quarter-final tie at Manchester United up for grabs, we've got the two goalkeepers together for an exclusive Aycliffe Today feature.
Tell us what you know about each other…
Jason: I know Ross loves his golf! I remember he had a few loan spells in his early Boro days, Barnsley and Crewe, and made his debut at Bolton, he played a blinder and I think they drew 1-1. It was in one of the last games of the season before Boro played in the UEFA Cup Final. He then left for Chelsea and maybe hasn't played as often as he'd like to, but whenever he has he has more than done himself justice. He also has a Premier League, FA Cup and Champions League medal, which is decent.
Ross: I know Jason's a top goalkeeper. I know his history, he was coming through at Boro when I was still there and I've followed his career ever since. He has played for England Under-21s, was in the Team GB squad for the Olympics and trained with the England senior squad recently. As a fellow Newtonian, I'm delighted for him and it's great to see him forging a great career for himself.
You're both sporting ambassadors for Woodham Academy – what is your favourite memory of school?
Jason: It mainly involves playing football. I didn't go into to goal until I was about 12, before then I played as an attacking midfielder, just off the forwards, number 10. I scored a last-minute left-footed half-volley against Bishop Barrington once… that was pretty memorable.
Ross: Lots, but mainly playing football. We had a decent team, we won a few leagues and cups. Experiencing that with your friends when you're young is always special and I always look back on those times with fondness.
Who do you have to thank the most for becoming a professional footballer?
Jason: My parents mainly, for their continued support over the years, driving me to games, buying me gloves and boots. Other than that, Steve Pears. I was only going to one of Boro's development centres in Spennymoor when I was 13, Pearsy took me under his wing and I never looked back. I'll always have him to thank for anything I may go on to achieve in my career.
Ross: It's impossible to single out any one person. My parents were the biggest factor, their support during my whole career, particularly when I was younger, driving me here, there and everywhere. From a footballing point of view, what goalkeeper coach Steve Pears did for me at Boro was unbelievable. I went to signing from Aycliffe to having England Schoolboy trials within months, so his guidance was crucial. Paul Barron was also a huge help once I'd graduated to the senior set-up.
You're both from the town, and you're both Aycliffe Today bloggers. You're obviously very proud of your town?
Jason: Very much so. I still live in the town and as long as I'm playing for Boro I don't see a need to change that. I'm surrounded by my friends and family and it'll always be a place which is very close to my heart.
Ross: Absolutely. It will always be where I'm from, where I went to school, where I was brought up. I only have fond memories and when I finish my playing career I'll always return to the region.
If you could change one thing about Newton Aycliffe, what would it be and why?
Jason: The town centre! It's looking dated to say the least, although I know they're starting to spruce it up a bit. I'd also have more football pitches. Once upon a time there used to be pitches all over the town, there used to be three at Horndale, I think there's only three or four all together now.
Ross: Probably sporting opportunities. There are some fantastic football clubs for youngsters and the work they do is very commendable. But I always remember playing five-a-side every Saturday morning at the Complex, we'd live for that all week, and they don't do it any more. I think sports facilities in general could be better.
What is your favourite thing about our town?
Jason: When you bump into an old friend in the street, it may have been months before you last saw him but you just pick up from where you left off. Also, managing Aycliffe Big Club on a Sunday morning, that gives me chance to catch up with the lads on a weekend, which is great.
Ross: I'd probably say coming home to see friends and family. I don't get a lot of opportunities to get back. Some of my friends come to visit me in London and I get back as often as I can.
There are a lot of youth football clubs and other thriving sporting organisations in Aycliffe – do you follow any other sports?
Jason: Not really, although I play a bit of golf. I'm playing off 10 at the moment. I've enjoyed the odd game with Ross, as well, he's good company and we've always got on really well. But he's a bit of a bandit when it comes to golf.
Ross: Mainly golf. I enjoy playing golf and I also watch a lot of it. And if Jason is playing off 10 at the moment, that must mean I'm off 12! I also enjoy watching tennis and I've been to the O2 Arena to watch basketball games a few times, that's always a good experience.
The town's football club is having a much better second half to the 2012-13 season than its first – how pleasing is that for you?
Jason: It's excellent. I've got a lot of friends involved at Aycliffe and I have a lot of time for the people who run the club. There was talk of relegation earlier on in the season but they've done well to get out of it. They've also done it by playing football. They've still got it down and passed it, and to do that when you're facing adversity like they were earlier in the season, shows great character. They're looking safe now, and that's great.
Ross: They were struggling at the start and you do wonder how it's going to end up. Thankfully they've turned things around, and I'm delighted. They're competing with some top clubs who have bigger fanbases and more tradition behind them, so if Aycliffe do manage to stay in that division it'll be a tremendous achievement by Allan, Gary and the lads.
A Middlesbrough v Chelsea fixture was taken for granted not that long ago – how long will it be before we're seeing regular Premier League games at the Riverside?
Jason: Well I can't see Chelsea being relegated this season so it looks like we'll have to win promotion, doesn't it? We were looking good not that long ago and we're having a hard time of it at the moment, but we're doing everything we can. We still want to get into the play-offs and it isn't beyond our reach so we just have to keep plugging away.
Ross: Hopefully next season. I know their form has suffered recently but it's a tough league. You can lose five on the spin just as easily as you can win five. Win a few and you're back up there. But I'm hoping this will be Boro's year and they'll be back where they belong. It's a fabulous football club and deserves to be in the Premier League.
Finally, tell us what the score is going to be on Wednesday night!
Jason: We'd all love to win, of course. But we have to be realistic. Chelsea have something like 24 internationals in their squad, they can put out more than two world-class starting elevens, so it's going to be difficult. Having said that, I hate conceding goals whoever we're facing, and I'd love to keep a clean sheet tonight. If we can nick a goal at the other end, that'd be fantastic.
Ross: Sorry, Jason, but I think we'll win, 2-0.