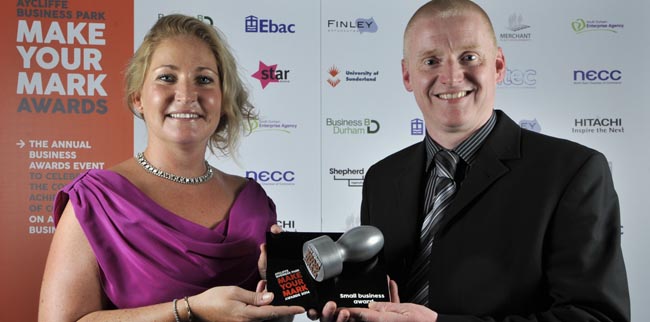 By Martin Walker
Flavoured coffee company Beanies picked up the Small Business of the Year award at Aycliffe Business Park's Make Your Mark event on Thursday night.
The firm, based at Evans Business Centre on the park, pipped D&S Services and Capture Films.
Managing director John Evans said: "Being nominated for this award gives all of us a great boost for the hard work we have put in over a relatively short period of time so we are grateful to receive it and remember small businesses can become big businesses.
"The networking opportunities associated with events such as this are equally important as are seeing what other businesses in the area, big and small, are achieving, well done to the organisers."
• Beanies director Mark Porteous is pictured above, receiving their award from Julie Finley, of Finley Structures, which sponsored the Small Business award.
Click here to see a gallery of pictures from the evening.
Click here to see the full list of winners and shortlisted nominees.