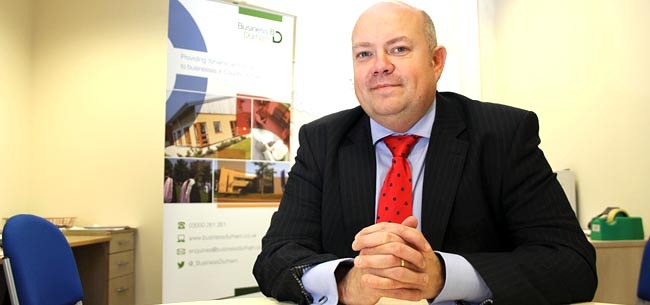 Dr Simon Goon is only four months into his new role of managing director of Business Durham, but he has already identified Aycliffe Business Park as a "jewel in the crown".
Goon succeeded Stewart Watkins, who retired in the summer after more than 30 years with the organisation previously known as the County Durham Development Company (CDDC).
As the gateway for business in one of the country's biggest counties, Business Durham has a wide-reaching remit covering a vast area, but Newton Aycliffe is clearly near the top of the agenda.
Watkins always had a soft spot for the area and was credited with playing a major part in helping to bring Hitachi Rail Europe's Intercity Express Programme to the town.
Similarly, Goon has already got his feet under the table. He helped to attract Compound Photonics to Aycliffe, saving the former RFMD plant and 80 full-time jobs, and has been impressed by the work of the Aycliffe Business Park steering group.
"Clearly it's a crown jewel for County Durham," said Dr Goon, who's originally from the Midlands but moved to the region 25 years ago to study chemistry.
"And not just because of Hitachi. Of course, that is a huge development for the area, but Hitachi should be proud to be locating in Aycliffe – in fact, I know they do very much see it that way – because it's a fantastic location and there's already some phenomenal work going on.
"There's such a diverse set of operations – big companies and small companies – and that's one of the best things about the business community that's going on. It's facilitating that networking of people who might never get to meet some of their neighbours otherwise.
"I think Kerina (Clark) and the board have done a fantastic job, and I'd like to see how the group can push the agenda out now to take a medium to long-term view, rather than short-term. What is the future vision for Aycliffe? 40% of the real estate in Aycliffe is developed, which means there's another 60% still to be developed. Do we want to develop it? If so, what type of businesses do we want to attract?
"We'd want to attract sympathetic or synergistic technology companies to the area. How will the University Technology College change things? Will we need more retail on the park?
"There's a lot going on already. There's a real buzz around it. People are confident, SMEs are popping up all over the place, big firms are taking on more staff.
"But we need to ask, what's the next development step for Aycliffe Business Park?"
Some say Aycliffe has the potential to be as big, if not bigger, than Team Valley in Gateshead, and Goon agrees.
He said: "We think Aycliffe Business Park is actually not that far behind Team Valley already, in terms of employment engineering and manufacturing. Aycliffe also has a larger land mass than Team Valley, so although it's all potential, there's no reason Aycliffe can't go for it."
After gaining a PhD in Chemistry, Dr Goon worked in technical commercial roles within the chemical and pharmaceutical industry and then worked in a strategic business engagement role for the former One North East.
He then set up his own consultancy business, working for clients across the world including India, North America and the South-East of England.
"But that wasn't scratching the itch," he says. "I felt there was more to life, I needed more purpose, to make more of a wide-reaching difference.
"Now I love working with a great team that has a longer, more impactful purpose. I'm passionate about the role, I'm enthusiastic and optimistic about the future and I'm really excited by the challenge."