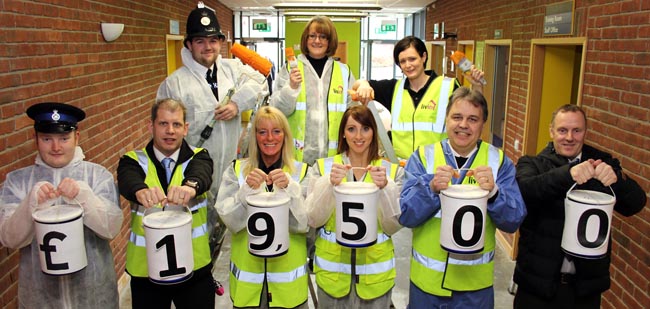 Newton Aycliffe Youth Centre has been given a facelift after 30 volunteers turned out as part of a week-long improvement project.
The project, valued at over £19,000 was led by homes and communities organisation livin as part of its livin community fund set up to support local initiatives and was made possible with support from repairs and maintenance company Mears, construction company Bullock, house building group Southdale and Durham County Council.
The facelift forms part of the preparations for the re-launch of the youth centre next month to encourage more people to use its facilities.
As part of the revamp young people that use the centre helped create the new designs which included decorating thanks to 165 liters of paint donated by Dulux decorator centre, new fencing, flooring, kitchen, gardening, furniture and electrical equipment.
Joan Clark, secretary of Newton Aycliffe Youth Centre, said: "It is like all my birthdays and Christmases have come together. It has been a pleasure working with the whole team. Nothing has been a problem to them. I am sure the vibrant colour scheme will please the young people who use the centre. They had considerable input into the choices."
The centre's facilities include sports coaching, health and beauty, cookery, dj-ing and curriculum time support and accreditation on nationally recognised certificates and qualifications are also offered.
Vince Crosby, chairman of Newton Aycliffe Youth Centre, said: "It has been great to see partnerships working together on the refurbishment of the Youth Centre. The results are outstanding. We are sure there will be a lot of long term benefits from the relationships formed."
For more information about the Youth Centre call 01325 307522 or visit www.great-aycliffe.gov.uk. For more information about the livin community fund visit www.livin.co.uk or email [email protected]
• Pictured
Front row left to right: PCSO Gavin Laycock, Nick Bramble, Bullock, Tracy Wilson, Mears, Carol Mohan, Mears, Wayne Harris, livin, Jeff Talbot, Durham County CouncilBack row left to right: Special constable Liam Callaghan, Julie Ken, livin, Rebecca Keane, Mears