Aycliffe Today has agreed a new shirt sponsorship deal with the town's football club for the 2016-17 season.
The community website, which is owned by Aycliffe-based PR and publishing firm Mantis Media, has agreed to sponsor Aycliffe's home strips for their new Northern League campaign.
And Aycliffe Today boss Martin Walker has also secured a new sponsor for the club's away kit, with details to be revealed soon.
Aycliffe chairman Allan Oliver said: "We're delighted with the support of Martin and Aycliffe Today again after the fantastic support they showed us last season.
"Aycliffe Today sponsored both the home and away kits last season, but Martin and his team have always been very active in trying to encourage other local businesses to support the football club.
"So we're also very pleased that they have secured us a new away kit sponsor while renewing the home shirt for the 2016-17 season."
Aycliffe FC made a string of record-breaking achievements during the 2015-16 season.
Peter Dixon's side won the Durham Challenge Cup for the first time, reached the second qualifying round of the FA Cup, the last 16 of the FA Vase and finished sixth in the Ebac Northern League first division – all of which were club records.
Oliver added: "We enjoyed a brilliant season and we're hopeful we can improve on that this year, but support from local firms like this is absolutely crucial to the football club, and we'd love to see others get involved."
Aycliffe Today editor and Mantis Media managing director Martin Walker, who was Aycliffe FC's media manager during the club's formative years in the Northern League, added: "I'm always very proud to be involved with the football club and do my bit where possible.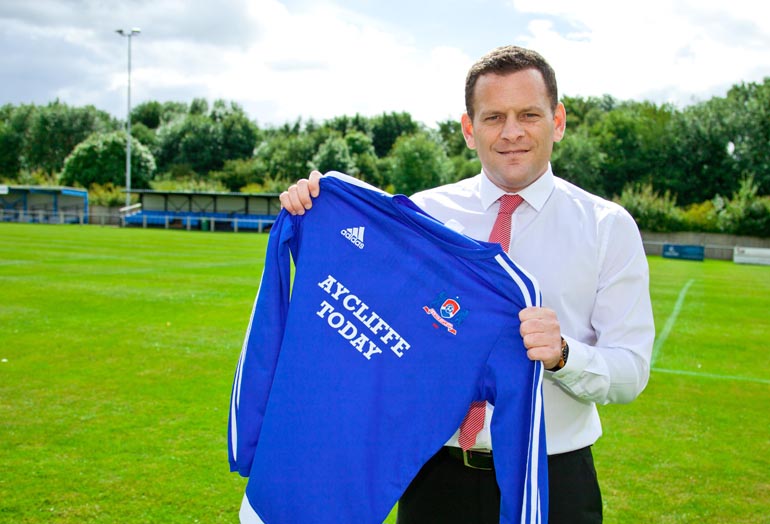 "I have a long association with the club as well as a passion for the sport generally, and would love to see more businesses get behind them in some way as they continue to put the town on the sporting map."
Walker, who's from Aycliffe and went to Greenfield School in the town, trained as a journalist with the Teesside Gazette.
He then had spells in the media departments at Middlesbrough FC and Sunderland AFC before setting up Mantis Media.
Walker created Aycliffe Today in early 2012 before launching a successful B2B magazine, Aycliffe Today Business, nearly four years ago, followed by the Teesside-based publication, Tees Business, in February 2015.
Mantis Media also looks after the PR for a number of Aycliffe firms including Finley Structures, Stiller Warehousing and Distribution, Raisco, SCH Site Services and South West Durham Training among others.
• Any other businesses interested in sponsoring Newton Aycliffe FC can contact the club's secretary Steve Cunliffe on 07872 985501 or by email to [email protected]