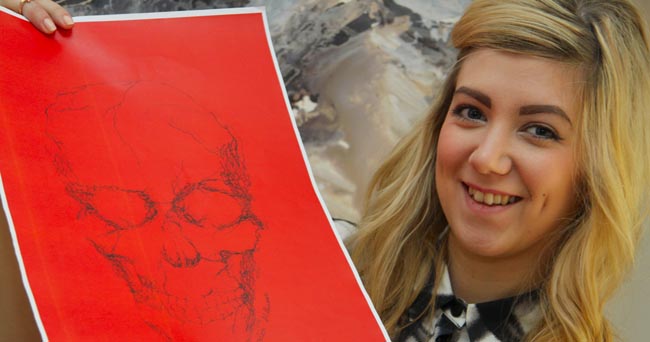 A fledgling designer's passion for fashion has seen her take her first steps into the design world with one of the world's leading couture brands.
Newton Aycliffe arts student Charlotte Jarps is flying high after seeing her print design debut for international fashion house Alexander McQueen.
Following a three month internship with the iconic label the Cleveland College of Art and Design student watched backstage as her twig skull print was paraded down the catwalk as part of the design house's autumn winter menswear collection for 2014.
"It was very cool and a bit surreal to see my work become part of the Alexander McQueen collection," said Charlotte, who is based at CCAD's Hartlepool campus.
"I was backstage at the show, which was held at a disused Victorian coal yard behind Kings Cross Station, and it was amazing to see all the models stepping out onto the cobbles, through swirling mists of smoke, some of them wearing my print design."
The 24-year old is in her final year studying textile and surface design at CCAD. She hopes to make a permanent move to London into a highly sought after career in fashion.
"Being at Alexander McQueen has really opened my eyes and given me the confidence to believe in myself and what I am capable of," said Charlotte.
The world renowned Savile Row fashion house, founded in the early 90s by the late Lee Alexander McQueen, is now led by creative director Sarah Burton, who alongside creating outfits for Michele Obama and Lady Gaga, made the dress worn by Kate Middleton, The Duchess of Cambridge, at her wedding to Prince William in 2012.
"I never really expecting anything to come of it," said Charlotte. "I'd attached some pictures of my work and a link to my blog and was quite excited when I got a reply saying that they had received my e-mail but then I heard nothing more.
"I waited a week then e-mailed again and this time they replied straight away asking me to come down to meet with the menswear team."
A five minute interview and a look through Charlotte's portfolio was enough to convince the people at Alexander McQueen to offer her a three month internship.
"I was so shocked," said Charlotte. "It was an incredible opportunity but I still had three months to go until the end of my college year and didn't think I would be able to accept but my tutors at CCAD were so understanding and sorted out an extension to my project deadline so that I could go to London.
"I've always been a fan of McQueen but I didn't know much about their menswear line. I've always done prints for women so it was really exciting to be able to do something different.
"They really threw me in at the deep end, doing a lot of drawing and converting it into prints. The biggest thing I had to adjust to was designing to someone else's vision and the team were absolute perfectionists in what they expected.
"I must have drawn the same thing over and over, at least 20 times, but that's why they are the best and I was amazed when they chose one of my prints for a T-shirt design and they also used it scaled down in the material for one of their suits.
"Watching the press launch and seeing the final garments modelled at the Kings Cross show was incredible, especially as Sarah Burton was also backstage.
"She gave me a McQueen scarf before I left and I was invited to stay on as an intern, and believe me if I could have I would have, but it's a great accolade to have on my CV.
"I love the fact that going to CCAD helped me to see the really exciting career opportunities available out there.
"Designing may look glamorous but you have to keep pushing yourself, be determined, confident, persistent and hardworking but the rewards of making a career out of something you love doing can be incredible."
For more information on CCAD courses contact (01642) 288888 or log on to www.ccad.ac.uk