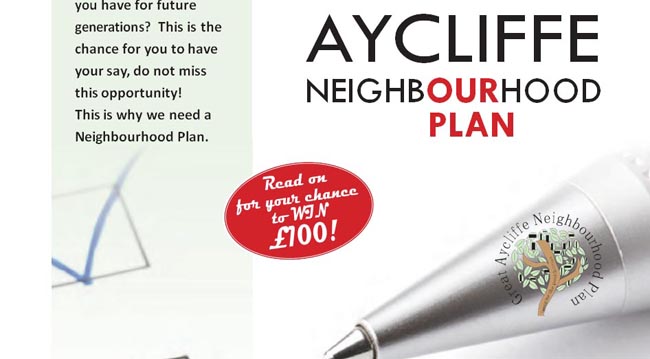 COMMENT: Great Aycliffe Town Council is taking the Neighbourhood Plan to the people of Newton Aycliffe with "zeal", as Aycliffe Today editor Martin Walker writes…
Councils and politicians are often accused of being insular; incapable of tuning into the thoughts of the general public.
Out-of-touch, grey suits sitting in council chambers, drinking tea and nibbling biscuits, deciding on local issues that affect local people, so they say.
But there has never been such a zenith opportunity, as there is now, for Newtonians to make their voice heard, to shape the future of Newton Aycliffe.
The Neighbourhood Plan gives everyone a genuine say in what they want to see happen on the town – ranging from parks, to transport, to business, to community and retail provisions.
If adopted – and it would only need a 51% majority in a special referendum to be held in two years – then people's views could be shaped into planning policies.
Admittedly, the plan is part of a programme being adopted nationally, but GATC can only be praised for the proactive way they have taken this to the public with zeal.
Press releases sent to the local media, public meetings organised and well attended along with Facebook updates and Tweets helping to widen the ports of communication. It's 21st Century stuff.
Council officers, and councillors alike, have embraced the idea, and Newtonians can't complain with their chance now to put their thoughts on the record.
That's their job? Absolutely it is. Why shouldn't they give the people of the town a say?
The fact is, they already do. Just about every Councillor nowadays has a Facebook profile, a Twitter account or even one of those new-fangled telephone numbers. The council even has a website.
Councillors are elected to serve you already, and they're only a phone call – or a click – away.
But the Neighbourhood Plan would give us all a bigger voice as one.
If every household in Aycliffe said it wanted a retail park with the likes of Marks & Spencer and Next, it wouldn't only have the developers running for their calculators, but, more importantly, it would give the Neighbourhood Plan a stronger voice.
GATC is now conducting a town-wide survey. Every household has already received a form, and boxes within it to have your say.
Alas, it isn't a Facebook page and it doesn't have a hashtag on Twitter. Unfortunately, it involves picking up a pen and pushing it against paper.
But even for those keyboard warriors out there who can't or won't put pen to paper, the forms are available online here.
That means there really is no excuse.
Aycliffe's Neighbourhood Plan document can only be as good as the response they get from you.
And, just like you can't win the lottery if you don't buy a ticket… if you don't have your say now, you won't get a say.
This is your chance… start by clicking here.