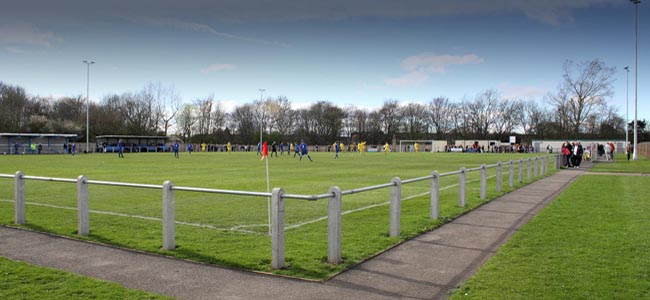 By Dan Lewis
Newton Aycliffe FC return to Moore Lane Park on Wednesday evening, in EBAC Northern League action.
Sunderland RCA are the visitors at the start of an important spell for Allan Oliver's men.
Saturday's reverse at big spending Celtic Nation was Aycliffe's third consecutive away league defeat, following on from the disappointments at Newcastle Benfield and Durham City.
However, on home soil, form has been much better. A return of eight league points from four home games is the sort of form Oliver will be looking to maintain, as they bid to make Moore Lane Park something of a fortress.
Oliver will also be boosted as more of his senior players return to fitness.
They have recently had a severe list of injuries, which has at times left him unable to name the full quota of substitutes, but the bench on Saturday had a much stronger look about it, and that is always an indication of the strength of the squad.
Keeper Dan Molyneux will definitely be missing after his horrific face injury last week. Youngster Ryan Farley has deputised well, although it remains to be seen whether the manager will look to bring in a more experienced keeper to cover the longer term while Molyneux recovers.
James Oliver was withdrawn more as a precaution on Saturday, while skipper John Close may be fit to return. Stephen Gibson made a successful 20-minute appearance as his recovery from a recent hamstring injury continues.
Sunderland RCA are perhaps a team we didn't expect to see in League action at MLP this season. A disastrous end to the season, combined with a points deduction for an administrative error left them in the relegation places.
However, they were reprieved and as such find themselves again towards the bottom of the table.
Currently they sit 18th, with a total of nine points from their 10 games. Their form isn't great, indeed they have only collected 4 points from their last six games.
However, as we know by now, this league can see any team win and lose on any given day.
Aycliffe wont be expecting an easy time on Wednesday, but must surely be hoping to keep the unbeaten home record going.
They have been easy on the eye for most of the season getting the tag of 'the entertainers'.
And whilst I am sure Oliver will settle for a scratchy 1-0 win, secretly I'm sure many of the fans will be hoping for another 4-3 thriller  following on from the Guisborough home game!
The game on Wednesday kicks off at 7.30pm, with tickets priced at £6 for adults and £4 for concessions. Kids aged 12 and under once again go for FREE!