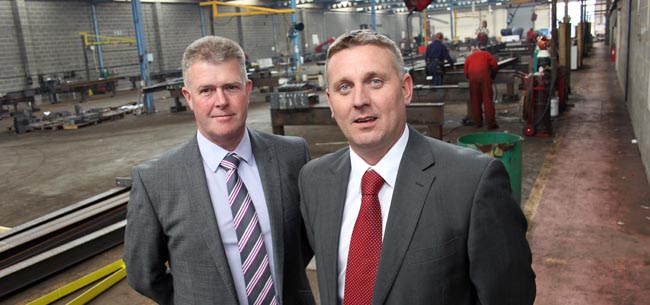 A Newton Aycliffe steel construction company is looking to expand after rescuing a car dealership project from a troubled Welsh firm.
Raisco joined forces with construction specialist Mark Jerman, who was made redundant by Newport-based Dudley and Sons.
The firm went into administration earlier this year costing up to 43 jobs, following a period of difficult trading. At the time, Dudley's was part-way through a 12-week project to revamp VW's Merthyr dealership in South Wales.
Mark, with more than 20 years experience, will now lead Raisco's new South West office as construction manager.
Mark said: "I'm delighted to be joining a young, vibrant company which appears to be very much on the up.
"I've known Gary for a lot of years and he's earning himself a fine reputation in the construction business for delivering professional jobs on time and within budget, which is the number one priority for main contractors these days."
Volkswagen are currently going through a national overhaul, refurbishing 242 dealerships nationwide, but has currently only completed 30.
Mark is confident Raisco have demonstrated their ability to take on more work offering the full project as a principal contractor.
He added: "We have the skills, expertise and knowhow to deliver these kinds of contracts and I'm confident we'll win more work like this in the very near future."
Gary formed Raisco in 2007 after 17 years in the construction industry and, aged just 33, was named amongst the Young Business Elite of Great Britain.
He has quickly grown the company, doubling turnover two years running to March 2011 then March 2012 to £4m.
Gary said: "We steadied the growth to March 2013 and consolidated and are now looking to further push our growth through to 2014 and 2015, and have recently increased employment over the last couple of months to take us in excess of 30 full-time staff.
"We're delighted to welcome Mark on board – the knowledge, experience and contacts he'll bring to our table will be hugely beneficial.
"We have an excellent, growing workforce and one of the best facilities on Aycliffe Business Park, the second largest industrial estate in the North-East, and we have exciting plans to expand in many ways.
"These are exciting times for the company and we look forward to a bright future as the company branches out into further sectors within the industry."