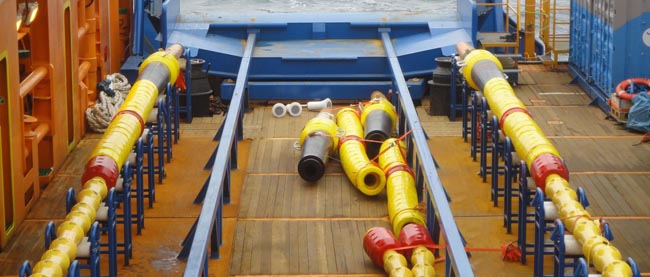 A Newton Aycliffe company that provides cable protection to the offshore wind industry has successfully completed work on a pioneering 80-turbine windfarm in the German North Sea.
Tekmar Energy has supplied bespoke coverings for the inter-array cables designed by JDR for the flagship Meerwind project.
The 288 MW project, constructed and operated by WindMW, will power approximately 360,000 homes.
Tekmar, headquartered at Aycliffe Business Park, was awarded the work to protect the inter-array cables from exposure to loads, deformations and fatigue during installation and across the windfarm's service life.
Construction of the windfarm began on the site 23km North of Helgoland during 2012 and is expected to be completed before the end of 2013.
Chief executive James Ritchie said: "The Meerwind project highlights Germany's increasing commitment to the offshore wind industry and will reduce carbon dioxide emissions by one million tonnes per year.
"Being awarded the contract for such high-profile international work has represented a great achievement for us. Our Teklink protection system will support this important project throughout its working life and enable it to benefit the region for many years to come."
Tekmar's involvement in the Meerwind project saw the company work with international submarine power cables installation contractor, VSMC, with the cable installation side of the development achieved ahead of schedule.
Up to four cables – including eight of Tekmar's cable protection systems – were installed per day, compared with the industry average of one full cable installation and two protection systems.
Over the past five years Tekmar has installed more than 2,000 cable protection systems and has a further 1,000 in design or manufacture for the 26 windfarms it has been involved in across Europe.
In comparison with other subsea cable installations, Tekmar's Teklink cable protection system does not require a j-tube and utilises a remote installation method. This provides enhanced cable life and resilience – reducing the risk of damage and requirement for maintenance.
Founded in 1985, the firm initially specialised in oil and gas before moving into the expanding offshore renewables industry when it developed bespoke cable protection systems for cables connecting wind turbines.
The company recently announced that it has enhanced its oil and gas industry offering, whilst maintaining its leading position in offshore renewables.