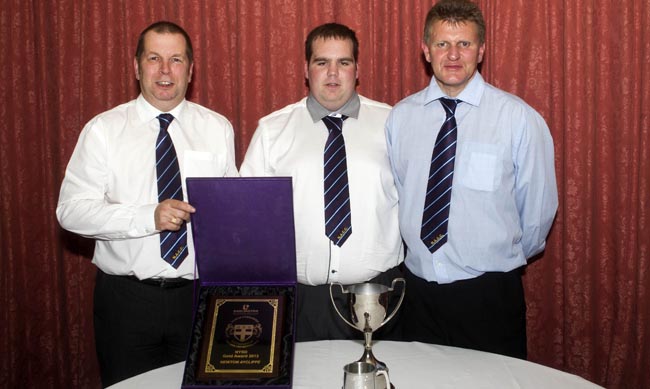 Newton Aycliffe Cricket Club's successful year ended on a further high at the North Yorkshire & South Durham Cricket League's Annual Presentation Night held at the Marton Country Club on Saturday.
After already gaining promotion in their first season in the League, Newton Aycliffe were delighted to win the prestigious Gold Award as NYSD Club of the Year.
All teams in the league were assessed in five areas Administration, Facilities/Match Day Experience, Fair Play, Discipline and Match play with Aycliffe coming out a clear top, beating their nearest rivals by 23 points.
The presentation evening got even better when the Club's vice captain Luke Telford was named Division 3 Player of the Year. Luke who finished the season with 66 league wickets and 433 league runs was clearly delighted to achieve this accolade in the clubs debut season.
The awards brought a fine end to the season that also saw the Club awarded Clubmark by the ECB and being selected as a 'Chance to Shine' club, recognising the progress being made both on and off the field and the systems in place that highlight the club as a trusted provider of cricket for all ages.
'Chance to Shine' will now send professional coaches into primary schools in Newton Aycliffe to encourage pupils to take up the sport, while coaching teaching staff to continue the progress.
As part of 'Chance to Shine' the coaches will direct pupils towards Newton Aycliffe Cricket Club and will arrange coaching sessions to integrate those children interested in cricket into the Club's existing youth system.
Club Chairman Ian Palmer said "The club has progressed a long way since we applied to join the NYSD and the last year has been a magnificent experience. I am delighted that the club has received recognition for this work and I think we have made a positive impression around the NYSD clubs that we have visited. Following our promotion we now have the opportunity to play cricket at some more great grounds next year.
On a personal level I was also delighted that Luke's individual contribution was also recognised".
With regard to 'Chance to Shine' and Clubmark Ian stated that he was extremely pleased that the hard work going on behind the scenes was also being recognised and that work was ongoing to further improve the facilities.
The preparations for next season continue immediately after the Christmas holidays with junior nets starting at Woodham Academy on Friday 10 January 2014 at 6.30pm.
More information about the indoor nets or Newton Aycliffe Cricket Club can be obtained by contacting the Secretary Lee Weldon on 07759 754959.