Newton Aycliffe construction firm Raisco has been awarded a contract to build a new Lidl store in County Durham.
Raisco has been appointed a turnkey project to design and build the new store at Crook, after planning for the development was approved by Durham County Council last September.
And the Aycliffe firm says the deal will create at least four new direct construction jobs, while the development will also support dozens of local businesses.
Raisco says around 75% in terms of value of material supplies, labour, plant and subcontractors for the Crook store will come from the North-East, with a majority of these from the County Durham area.
While more than 100 tonnes of steel will be erected by Raisco and fabricated in-house at the firm's 35,000 sq ft premises on Aycliffe Business Park.
Managing director Gary Raistrick, who formed the company in 2007, said: "We're delighted to be working again with Lidl on what is an important development for Crook, and a significant contract win for Raisco.
"We are exceptionally pleased after completing two projects outside of the area for Lidl. We're now working for them in the North-East which will be a huge advantage to our company due to our local knowledge.
"This project will support local businesses as well as the requirement for us to take on additional employees in the groundworks and civil engineering department. And as Raisco is a local company, we will, where feasible, be using local suppliers which can only assist in boosting our local economy."
Raisco announced in early part of 2015 it had been approved as a principle contractor for Lidl after completing one of its new stores ahead of programme.
The company finished the European retailer's new Normanton store near Wakefield, West Yorkshire (pictured below), ahead of schedule in early 2015 and was the awarded another turnkey contract to complete a new store in Bentilee, Stoke, which opened in September last year.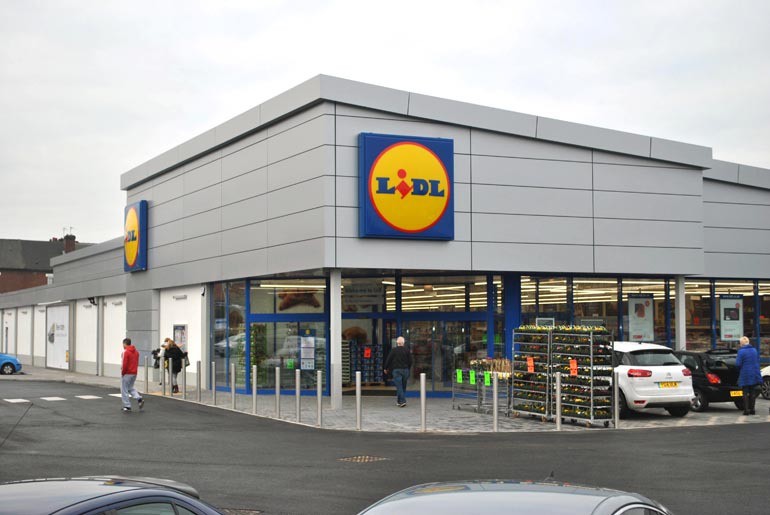 Now it has won the Crook store, which will be a glass-fronted building replacing the former Co-op site on New Road in Crook, and is due to open later this year.
The development will have a sales area of 1,424sqm along with 182 parking spaces, including 11 for the disabled, four parent-and-child and three electric-car charging points.
Mr Raistrick added: "We've proved ourselves with the first store in Normanton in the early part of 2015, then completed another new build in Stoke – they were both to replace existing Lidl stores which we first had to demolish.
"We're hoping to take on more new builds for Lidl this year and, should we be successful in winning more turnkey projects, we'll increase our workforce accordingly."
Raisco is currently working on various steelwork packages for the extension of the Lidl at their regional distribution centre in Newton Aycliffe, a development which will increase its existing factory by a further 17,000 square metres and create 70 new jobs for the retailer.
Other repeat orders include steelwork for an extension at Frontier Court in Sunderland for STP Construction and a new store build in Minehead for Wright Morgan Construction.
And in terms of new clients, Raisco has also recently completed a block plant extension for Thomas Armstrong Products in Leeds for Thomas Armstrong Construction, and is working on an extension at Walker's crisp factory in Peterlee for Scottish firm Colorado Construction.
Mr Raistrick added: "There was a slight slowdown in orders from around October last year, but it is starting to pick up again. We found that several projects we intended to secure suddenly where not going to start to April 2016 instead of last quarter of 2015.
"I didn't really have any concerns over the drop due to the knowledge that these had not shelved but only delayed, and coupled with all the new construction work I'm confident 2016 is going to be a strong year for the construction industry.
"Our staff have done a fantastic job in pulling in new clients while maintaining some of our regulars, which is testament to the company's ability to diversify at very short notice."
Since being formed eight years ago, Raisco has rapidly grown into one of the country's leading construction and steel fabrication firms, diversifying from purely a structural steel company to having the ability to provide a full construction turnkey package.
It now works with clients up and down the country and has delivered a wide range of fabrication and secondary steelwork projects for many of the construction industry's well-known main contractors as well as turnkey solutions for end-user clients.