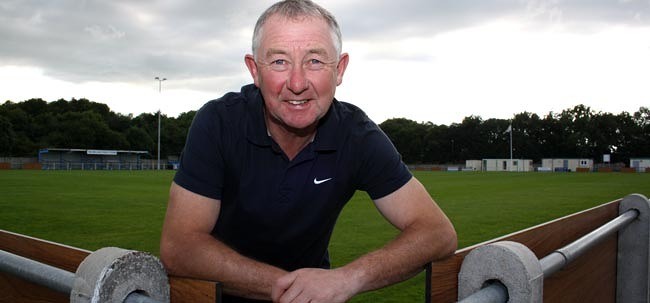 By Martin Walker
Newton Aycliffe manager Allan Oliver has questioned the commitment of some of his missing players after a humiliating defeat at home to Bishop Auckland.
And he has warned his troops there will be new faces coming in to improve the squad.
The Newtonians were soundly beaten 5-1 by the Two Blues at Moore Lane Park on August Bank Holiday Monday.
It was Aycliffe's fourth consecutive defeat of the season which leaves them at the bottom of the Ebac Northern League first division.
Eight players were unavailable for the derby – three through injury (Kris Hughes, John Close and Mark Peck), and five to holidays (James Oliver, Paul Broom, Josh Knox, Stuart Owen and Tom Hinchley).
The crushing defeat left Oliver fuming, saying there are players out there and available who will improve his squad.
Oliver is also said to be considering a move to fill the void left by Brian Atkinson, the former coach who left the club last November and wasn't replaced.
After Monday's defeat, Oliver told Aycliffe Today: "The worst thing was five were on holiday.
"For me, do you plan things a little bit better? Or are you not bothered? One thing's for certain, if you're not bothered, you'll not be here another two minutes.
"We just want a bit more commitment. Defeat has got to hurt as much as it hurts the management.
"There are players out there available that will improve us, and things are going on behind the scenes, day and night, to try and improve that.
"It's as plain as the nose on your face, we need more quality and experience, and more of a threat going forward."
Oliver admits Monday's defeat was largely down to a lack of experience.
He added: "We had some decent chances in the first half, never took them, and conceded the poorest goals we'll ever concede.
"We got back in it at 2-1, and with the inexperience we have in the team we've tried to bomb forward, got caught on the counter, and then the heads go down.
"We haven't got enough experience in the side. We had a monumentally patched-up back four, two centre-backs missing and a full-back missing.
"We'll endeavour to fetch players in, we definitely need more experience and quality around the pitch."