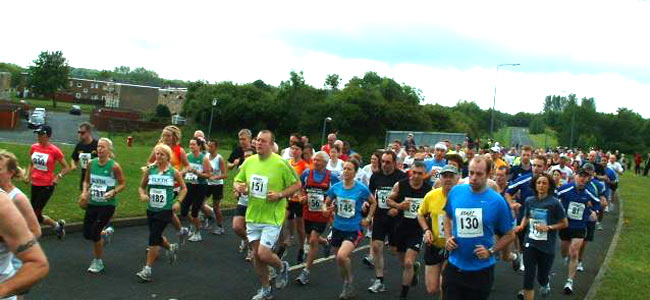 By Glen Robertson
James Askew won the annual Newton Aycliffe 10k for the second successive year, on the day the Olympic torch visited the town.
Askew, who runs for Durham City Harriers, finished with a time of 32 minutes and 18 seconds to finish just one second ahead of 2010 winner James Bulman.
Rosie Smith, from the Durham Harriers, was the first female to cross the line, finishing seventh in a time of 34:25.
Tom Porter was the highest finisher from Aycliffe Running Club (ARC), coming in 67th after completing the distance in 41:21.
The preceding 3k fun run was won by Henry Johnson in 11:47. Rebecca Mott was the highest placed female runner, crossing the line seventh in a time of 14:21.
Following the run, ARC celebrated at the Bay Horse in Middridge, having a meal before watching the Olympic torch relay pass through the village.
Runner Daniel Sanham, who completed the distance in 46:09, said the running club enjoyed their day, even if his run was not to his usual standard.
"I didn't have the best of runs," he told Aycliffe Today. "I was a bit off my personal best but I enjoyed the day.
"It was great seeing the people of Aycliffe come out for the 10k in the morning and getting to see the masses of crowds in the afternoon for the torch.
"Middridge was packed and I've heard it was the same in Aycliffe. It was a great afternoon for everyone."
Anyone interested in joining the ARC, from aspiring Olympians to people looking to improve their fitness, can just turn up to a training session.
Training sessions are held on Tuesday and Thursday evenings.
These are generally held at the Oak Leaf Sports Complex, Newton Aycliffe, on Tuesday evenings at 19:00 and the Shildon running track on Thursday evenings at 18:15.
For more information visit the club's website on www.ayclifferunningclub.org.uk.