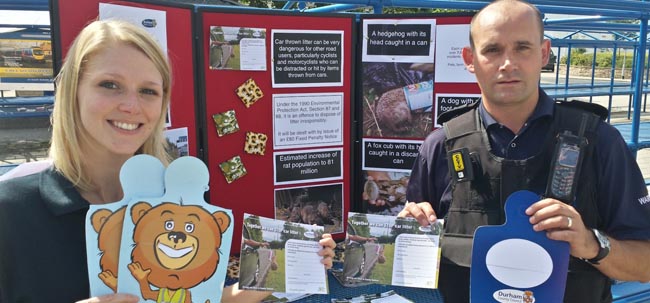 An anti-litter campaign in County Durham resulted in hundreds of people signing a pledge to dispose of their rubbish responsibly.
The Driving Out Litter in County Durham campaign took place during August and targeted known hot spot areas, including supermarkets and fast food restaurants.
It was aimed at encouraging people not to throw litter out of their car windows and put their rubbish in the bin or recycle it at the end of their journey.
During the campaign:
officers spoke to 1,717 people to encourage them to dispose of litter properly and report any incidents they see of litter being thrown from cars;
511 people signed a pledge card promising to dispose of litter responsibly;
588 car litter bags were given to drivers;
186 stubbie pouches were given to smokers to encourage them not to throw cigarette ends out of their car windows;
177 fixed penalty notices were issued to people seen throwing rubbish from cars; and
50 advisory letters were issued to educate motorists about the impact littering can have on the environment and local wildlife.
Oliver Sherratt, head of direct services at Durham County Council, said: "This campaign has been a remarkable success, particularly in targeting known car litter hot spots.
"We've spoken to more than 1,700 people and hundreds have pledged to do their bit to reduce the amount of litter which is thrown from cars in County Durham.
"We would urge people to simply take their litter home – but if anyone does see litter being thrown from cars, they can help tackle this problem by reporting it to us so that we can investigate and take appropriate action."
Durham County Council ran the campaign in partnership with Durham Police, town and parish councils, area action partnerships, supermarkets, fast food restaurants, local groups, Litteraction and Litterfree Durham.
People can report incidents of litter being thrown from cars – providing as much information as possible, including details of the vehicle and the date and time of the offence – by contacting Durham County Council on 03000 26 1000.