Newton Aycliffe students were entertained by anti-bullying activist and musician Rich Cottell as part of his national tour.
The Devon-born acoustic guitar player and singer, who has a social media following of over 110,000 people, has embarked on a country-wide tour, visiting schools around the UK.
The tour uses music and humour to discuss the tough subject of online bullying.
Year 7 and 8 students at Woodham Academy spent an hour with the YouTube star last week.
Students discussed how such bullying takes places online, how to report it and who to and the affects their actions can have on other people on the internet.
Cottell also discussed how to stay safe online by keeping your profiles private and only accepting requests from those that you know.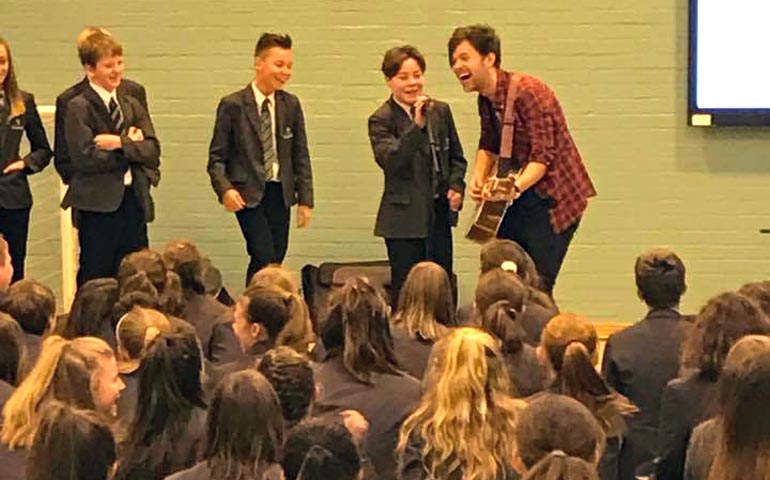 During the session, students were wowed with a performance by Cottell and even had the opportunity to sing alongside him before taking part in the Mannequin Challenge – to see the Woodham Academy Mannequin Challenge visit Woodham's Facebook page.
The students were left to think about what they share online and how they use social networking sites.
Cottell said: "Think about what you are about you are posting. Would you like the whole world to see the photo or status you are about to post? If the answer is not them don't post it."
Online bullying, also known as cyber bullying, is when an individual or a group of people upset, humiliate or hurt another person via the internet or digital technology. This includes emails, social networks, gaming, apps, chat rooms and many more digital networks.
Alongside his management company, YellowBrick Music, Cottell has been working with hundreds of students every day to communicate the impact of online bullying.
His sessions are designed to be engaging and something that the students can relate to. They're fun and are designed to encourage students to come out of their comfort zone.
If you are a victim of online bullying you can follow these steps:
• Block the people that causing distress. All social networks have the facility to block people and phone numbers can be blocked on your phone too.
• Keep your profiles private. Don't openly give out your mobile number, email address of profile links to people you don't know.
• Check your privacy settings. You can control the information that is seen by those you are not connected to by looking in the settings section on your social networks.
• Save messages. If you are receiving unpleasant messages, save any evidence. Take a screenshot so you can explain what is happening. Don't reply as retaliation can often make the situation worse.
• Report it! Don't deal with this on your own. There are many people you can speak to about bullying and seek advice from including family, friends, teachers and websites and hotlines such as childnet, childline and bullying.co.uk.
If you are concerned about online bullying or would like someone to talk to, visit www.childnet.com/young-people.