An ambitious team of accountants has taken on eight new members of staff after investing in its own premises and doubling turnover for a second year.
The Durham franchise of national network Certax has been based at Parson's Court on Aycliffe Business Park since August 2013.
After impressive growth, directors Matthew McConnell (pictured above, right) and Jonathan Tait decided to buy their own premises at the end of 2015 after renting part of a nearby office block for two years.
They paid a six-figure sum to purchase a two-storey building, previously leased by construction firm Southdale which had gone into liquidation, from Cheshire-based owners Gladman Developments.
Since then Certax Durham has added eight new employees to its growing team, boosting it to 17, and has plans to add a further six employees to the team over the next year.
It has increased its client list from 700 to more than 1,000 customers, which has put Certax on course to double turnover again this year.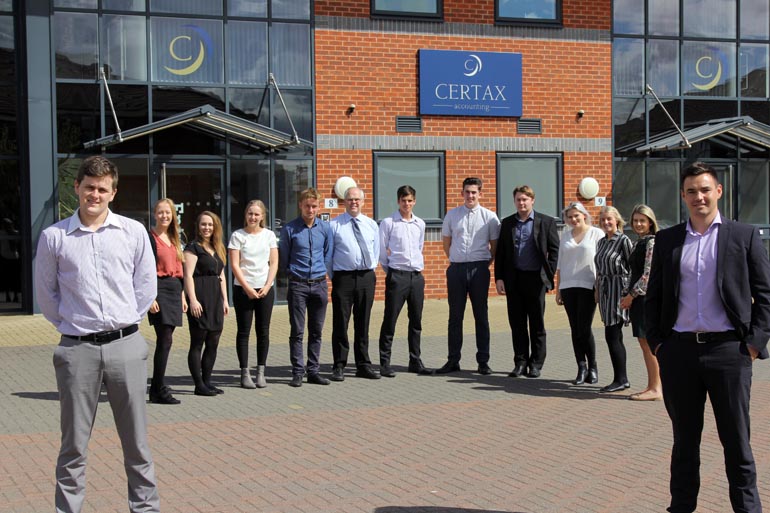 Certax has also successfully let the whole ground floor of the building to various new tenants, including Creativehill, JT Construction, Just Money UK and Harrison Brown Financial Services, while retaining the first floor for its own business.
McConnell said: "We moved into a nearby building in August 2013, but we only had one half of it and we very quickly outgrew it.
"We had an option to purchase it at the time, but it made more sense to buy a whole building from a financial point of view.
"We were growing our client base quite rapidly because we're competitively priced in our market place and we haven't changed our model, so our clients stay with us.
"So we had to expand and buying our own building was the most logical, natural progression for the company.
"We also had to bring more members of staff in because we were doing a lot of the hands-on work and we needed more people in the company to free up time for us to develop and grow the business."
Certax Durham had already doubled its client base to 700 from starting out two-and-a-half-years ago.
It's now one of the best performing franchises in the UK, of around 200, and is dealing with a range of clients, from sole traders up to £5m-a-year companies including multi-national sports clothing brands among others.
Tait added: "We're ambitious and we had a long-term plan but we've probably achieved more than we thought we did when we first set out.
"What's important for us is that we control that growth carefully, continue to give all our clients good value for money and ultimately keep them happy.
"We're a national network of accountants but with a very specific local focus. We offer a wide range of services with the experience, expertise and specialism normally afforded to a national firm of accountants, but with a local, personal and friendly service that our clients will come to rely on year after year."
Certax Durham can help Aycliffe businesses with all elements of finance, from audits, self assessment tax, payroll and VAT returns, accounts for sole traders, partnerships and limited companies, personal and business taxation planning, company formation and corporation tax compliance and planning.
Certax also uses and offers free training in the KashFlow accounting system, which saves businesses precious time by providing a quick and easy-to-use online system which helps them keep on top of their finances with invoicing, cash flow management and automatic VAT return generation and filing at the touch of a button.
• Certax Durham is based at Units 8/9 Parsons Court, Welbury Way, Aycliffe Business Park. You can contact them on 01325 315666, email [email protected] or go to www.certaxdurham.co.uk