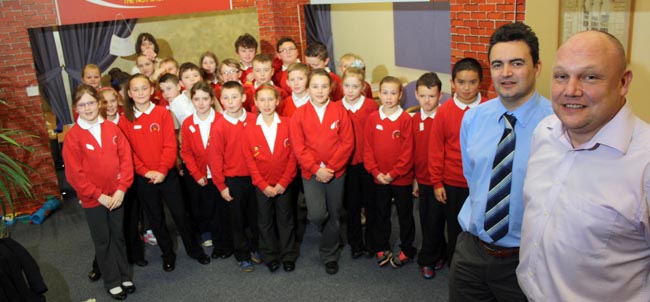 Newton Aycliffe school pupils can now benefit from an innovative programme that challenges youngsters to run their own city.
Devised in the United States, Enterprise City sees children take control of their own city, make rules and discover the consequences of individual and group decisions.
It is initially being targeted at primary school pupils, who will apply and be interviewed for various roles and then spend the day running a model city.
Aycliffe-based Enterprise England, the company that brought the programme to the UK, held a pilot event with St Mary's School from the town earlier last year, and had immediate interest resulting in Pelton Primary School going through the programme before Christmas and other schools booking in for 2013.
GO TO OUR VIDEO VAULT TO SEE OUR SPECIAL FEATURE
Gail Mason, a Year 6 teacher at St Mary's, said: "I was truly impressed with the levels of engagement and enthusiasm displayed by the children.
"Every single one of them remained motivated and on task for the entire week. In fact, they were buzzing!
"One of the girls, who struggled to write and keep up in maths lessons, proved to be a formidable saleswoman with a gift for persuading and motivating others. Due to this, her group made the greatest profit of the day.
"As a result, within the class, she achieved recognition and her confidence levels massively improved."
Barbara Reilly-O'Donnell, head teacher at St Mary's, added: "Enterprise City took our Year 5 and Year 6 children on an exciting learning journey into the world of work.
"Through a real-life context, our pupils had the opportunity to apply skills in new ways and deepen their thinking. The lessons taught were inspiring for children of all abilities and the opportunity to work as part of a team in this way was very motivational."
The programme is designed to meet PSHE and incorporates citizenship, numeracy, literacy and art and design curriculum in an adaptable and kinaesthetic way, and is now being rolled out to schools across the North-East.
But directors and brothers Darren and Dale Anderson, along with co-director and fellow Newtonian Damian Stevenson, are particularly keen to share the exciting new project with their hometown schools.
Darren, pictured with pupils at Enterprise City, said: "I was shown this concept by   Enterprise America Director Philip Ross in the USA about five years ago, and the minute I returned, I started working on how to bring it to the UK.
"I've never seen children as engaged with anything as I have with this – it's phenomenal. As proud Newtonians, we want our children to benefit from this first and foremost."
Dale Anderson added: "Right from the interview process to the city visit ,the programme is a totally enjoyable life skills experience, and the children can only benefit from that."
Crucially, the new project is being supported wholeheartedly by Durham Education Development Service, the education arm of Durham Council.
Phil Hodgson, Senior Lead Support and Development, said: "Enterprise City provides exciting, dramatic opportunities to practise social skills, to choose and apply for jobs, and to work individually and as a team.
"We would encourage all teachers to find out more about the opportunities for children and young people from this exciting programme."
For further information about the programme or if you think your school would be interested in learning how it works, please contact [email protected] or directly in touch with Catherine Robson, Education Development Advisor at the CYPS, [email protected]