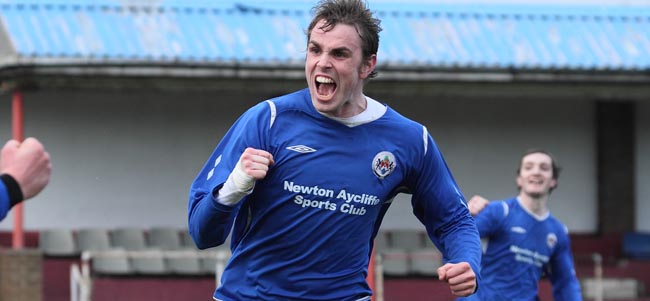 Newton Aycliffe FC historian Paul McGeary, a regular contributor to Aycliffe Today, pens a touching tribute to Northallerton-based sports photographer Paul Gaythorpe, who sadly passed away suddenly last week. Paul Gaythorpe captured many memorable moments while working freelance for the town's football club over recent years, and his brilliant pictures played a big part in the club winning the Northern League Programme of the Year award three years running…
Not many people at Newton Aycliffe will have known Paul Gaythorpe. In fact, I dare say there was only two. I'm one of them. Though to say I knew Paul, would be an exaggeration. I know his work better.
Paul was a keen, and fantastic sports photographer. He was a Northallerton Town fan, first and foremost. I'm not sure, but I reckon a small majority of any photographed Northern League footballer was captured by Paul. That's certainly the case at Aycliffe.
I first met Paul at Shildon in the summer of 2010. We were playing the Railwaymen in a pre-season friendly, and we needed some quality images of our summer signings. At Aycliffe, we take a professional pride in our media output, and Paul was the man who we wanted to take our snaps.
We had won the Northern League's Programme of the Year award the season previous, and we were keen to do so again. As the season progressed, Paul's images accompanied any story we released, as well as decorating our improved programme and website. The plaudits were ongoing.
On the field, Aycliffe were also making an impression. Rarely out of the top three, as the season drew to a close, we were near certainties for promotion, and title winning candidates to boot. We contacted Paul.
I still recall the day we won promotion, Who wouldn't? It was March 26th, 2011. We were away to Seaham Red Star. We had booked Paul to shoot the game. We were sure of victory, you see. The champagne was in the dugout throughout.
Paul was at Durham City that day, shooting a Sunderland reserve game I think. He promised to be at Seaham by kick off. By half-time, with us winning 1-0, there was still no sign. We readied the camera phones.
Minutes into the second half, Seaham tore up the script and equalised. Maybe Paul's absence wouldn't be felt. The champagne would stay on ice perhaps. It was at that moment I spotted Paul, racing into the ground. Knowing he was late, he wasted no time, and rigged up immediately behind the bottom goal.
It was almost as though the team had waited for him to arrive. Within seconds, Warren Byrne sent a ball into the area and the first picture which Paul photographed is one which is forever revered in Aycliffe history. Elliot Gardner smashed home the cross, and wheeled away in celebration. Paul's image captures this amazing moment.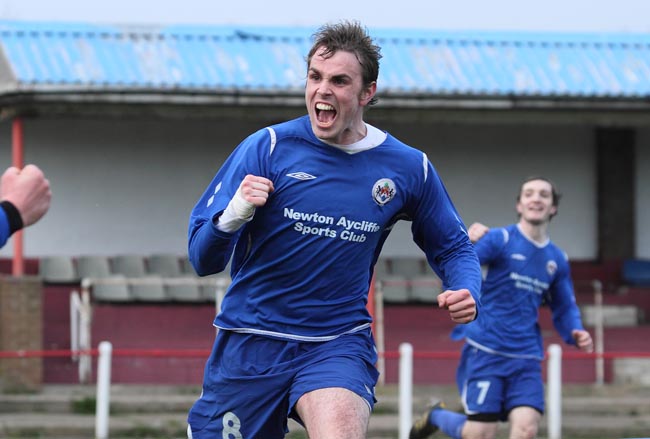 Half an hour, and over a hundred camera clicks later, we had destroyed The Star 6-1, and the champagne corks were popping. Promotion had been sealed, and everyone connected with the club made for the centre circle. More history was captured. Paul done us proud. He continued shooting in the dressing room for ages afterwards too, ensuring every moment was immortalised.
Every time I look at the photographs from that day, and the subsequent shoot the following week when we won the second division title – and indeed the trophy presentation a fortnight later – I always spare a thought for two gentlemen, sadly no longer with us. Long-time supporter Frank Batley, and club legend and Godfather, Frankie Swinburn.
Now I'll also spare a thought for Paul Gaythorpe.
Here are some of Paul's brilliant pictures covering our football club…