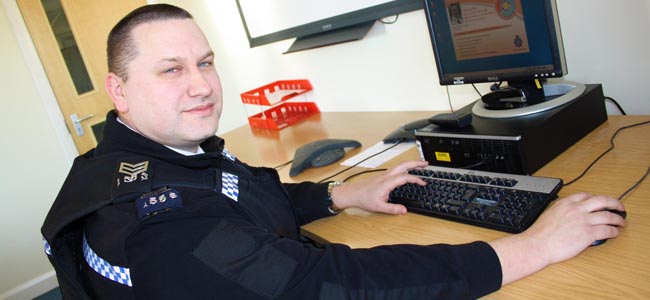 As part of his regular blogging on Aycliffe Today, Aycliffe Neighbourhood Police Team Sergeant Mark Edwards details a day in the life of our local bobbies…
Today it's…
Part 2 – Onto Business!
The following is an actual occurrence of events that transpired over the first couple of hours of an early shift today (11th Sept). Following the briefing that kick-started the shift for the Neighbourhood Team PCSO's Richard Scott and Chris Noble were deployed to a report of a dog stolen from a yard in the Horndale area of the town. Very little information was known, no suspects had been described or observed. The guys decided to start their enquiries with what we refer to as an 'area search' which is exactly what the name suggests. After spending around a quarter of an hour going around the streets of Horndale a further report was received that said dog had been recovered and was actually under a bed within the address all along. No crime then, so it was back to the office for the guys to get their next 'assignment'. It was close to the 8.30 am mark by this point.
For myself, the morning management meeting followed where I, the Response Sergeant, and my boss – the Neighbourhood Inspector, sat down around the table and discussed crime for the aycliffe area that had occurred over the last 24 hours.
It was then 9 am and Richard and Chris received their next taskings. A house burglary had been reported yesterday from the Faulkner Road area that had occurred during the pre-ceeding week whilst the victim was away on holiday. The guys were dispatched to provide a reassurance visit and to offer crime reduction advice – providing equipment in the process. Unfortunately, the victim was not home so Richard and Chris moved onto their next job/s – by this point several crimes had been rung in to our Control Room from persons discovering offences from overnight. It appears that several vehicles had been broken into overnight at various locations across the town and in Middridge. There was potential scope for numerous enquiries here consisting of house to house enquiries, CCTV exploration and so forth. A busy time ahead for the duo!
But before they could make haste….
9.50 am. A report was then received that a JCB stolen from Middlesbrough last night had been recovered by the owner in a wooded area off the A167 near to the entrance to the Business Park. Pc Alan Thompson and myself made our way to the scene along with several of our colleagues from the Response Team. A containment was placed on the surrounding area and searches were made for any outstanding suspects by Dog Support Unit Officers, sadly to no avail. Our Crime Scene Investigators (or CSI: Newton Aycliffe if you prefer!) then conducted a forensic examination of the recovered machinery for evidence. PCSO Noble was then pulled away from his other enquiries to maintain a scene preservation of the JCB until the forensic investigation had concluded.
It's now 10.30 am and PCSO Nicola Shaw commenced her shift. She teamed up with Richard and they went off progressing the enquiries referenced above. In the course of doing so, they identified other victims of offences yet to be reported.
11.30 am and Pc Thompson and I went and paid a visit to one of our 'targets' – these are people who have been identified as committing crime and have been dealt with by the Police and Courts for various matters. We like to keep them in our sights and subject them to regular attention – just to let them know that we're keeping an eye on them. They don't seem to like this, my heart bleeds! Following this it was back to the Station.
12 midday and the team members from back turn are just arriving. Time to bring them up to speed….
To Be Continued….