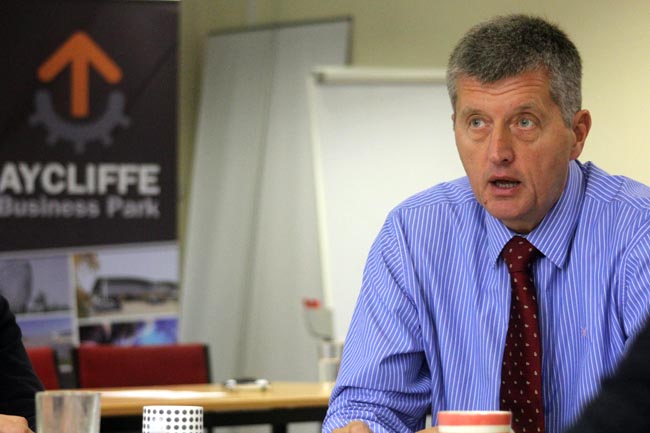 By Martin Walker
Merchant Place Developments boss Geoff Hunton was the guest speaker at a free business event in Newton Aycliffe.
Mr Hunton, who successfully brought Hitachi Rail Europe to Aycliffe Business Park (ABP), spoke to firms at the latest news and networking event on Friday.
The latest event, organised by the ABP group with the help of Business Durham, was staged at Ebac, with around 50 companies attending, including Stiller MD Paul Stiller (pictured above).
SCROLL DOWN TO SEE OUR PICTURE GALLERY
Mr Hunton told Aycliffe Today: "Hitachi is going to be here for 25 years-plus, so it's very important for both Merchant and Hitachi to integrate with the local community.
"I think these regular meetings are very good, and allow us to explain what we're doing, but also to listen to what other services and companies there are on the park.
"It isn't just about the larger picture of this development, it's also about the smaller services that can provide, so there's room for everyone."
Chair of the ABP steering group, Xcel Centre manager Kerina Clark, said: "Our meetings continue to prove extremely popular with local businesses
"So far this year we have hosted six events and we're getting some great feedback from people who are finding it hugely beneficial to just get to know their neighbours and, in some cases, do business with one another.
"It has reaffirmed to us what we thought was a good idea, is actually a great idea!
"It's also very useful when people like Geoff Hunton can come in and talk openly to companies about what is a major development for Aycliffe Business Park – it proves both Hitachi and Merchant are being pro-active when it comes to communicating with us."
The next Aycliffe Business Park event is at Aston Hotel on Friday September 6 – more details about the group and news can be found at www.aycliffebusinesspark.co.uk
● More details about the latest event and Mr Hunton's full interview will be included in the next issue of Aycliffe Today Business, due out in a couple of weeks.