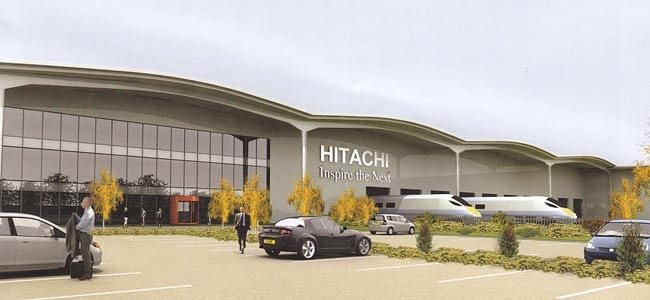 A £1.2 billion deal to build more trains in Newton Aycliffe has been announced.
Transport Secretary Patrick McLoughlin has confirmed the huge order for more state-of-the-art trains to be built by Hitachi Rail Europe.
The 270 carriages will be manufactured by Hitachi at its new purpose-built factory on Merchant Park in Aycliffe as part of the government's overall £5.8b Intercity Express Programme (IEP).
The latest order for the trains, called the class 800 series, will be operational on the East Coast Main Line from 2019 and will deliver significant benefits to passengers, including boosting capacity by 18 per cent, improving train reliability by a factor of five and cutting journey times between London, Leeds, Newcastle and Edinburgh by up to 18 minutes.
The order is a boost for Hitachi's North East manufacturing facility and its 730 planned jobs.
It will further enhance the factory's ability to win lucrative rail contracts across Europe and give the UK another runner in the global race to build the world's best trains.
Transport Secretary Patrick McLoughlin said: "By signing this deal we have provided further proof of our determination to transform Britain's railways into a world-class operation through continued investment and state-of-the-art technology.
"This new order for class 800 series trains is part of the government's commitment to invest in our nation's infrastructure. "
Hitachi has recently completed a deal to build its Newton Aycliffe factory with a local development firm Merchant Place Developments and has said that it will be operational from 2015 with full production starting in 2016.
Alistair Dormer, Executive Chairman and Chief Executive Officer, Hitachi Rail Europe, said: "This follow-on order by the Department for Transport is great news for passengers on the East Coast Main Line.
"This order is a tremendous boost for Hitachi Rail Europe's new factory with its 730 future employees in County Durham and for the British supply chain.
"This order extends firm orders at the factory until the end of the decade with significant capacity remaining available for further UK and export contracts actively being pursued."
Last year the Department for Transport agreed an initial order for 596 carriages with Agility Trains, a consortium of Hitachi and John Laing. As well as building the new state-of-the-art manufacturing facility, Hitachi is also planning to construct maintenance depots in Bristol, Swansea, west London and Doncaster, and will upgrade existing maintenance depots throughout Britain to service the class 800 series trains.
The first batch of class 800 series trains will enter revenue-earning service on the Great Western Main Line in 2017 and on the East Coast Main Line in 2018.